Current Affairs – November 28, 2020 [Today's News Headlines]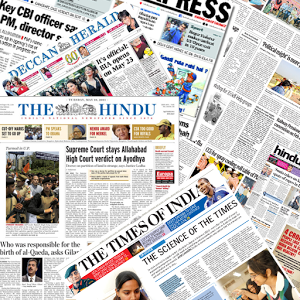 Here are Today's News Headlines for November 28, 2020
India
PM Modi's telephonic talk with UK's PM
Prime Minister Narendra Modi had a telephonic talk with UK Prime Minister Boris Johnson. During the conversation, the two leaders reviewed the cooperation between the countries in the area of coronavirus vaccine development and manufacturing.
Rajnath Singh holds talks with Vietnamese counterpart
The Defence Minister Rajnath Singh discussed collaboration in defence industry with his Vietnamese counterpart General Ngo Xuan Lich. The leaders discussed on capability building, training and cooperation in United Nations peacekeeping operations.
Environment Minister launches India Climate Change Knowledge Portal
Minister of EFoCC, Prakash Javadekar launched the India Climate Change Knowledge Portal. The portal will include all the steps of GoI at both national and international levels addressing climate change.
National Organ Donation Day: Nov 27
The eleventh National Organ Donation Day was observed on November 27, 2020. The Union Minister of Health and Family Welfare Dr. Harsh Vardhan requested citizens to visit the NOTTO (National Organ & Tissue Transplant Organisation) website to pledge to donate their organs online.
Indian Navy's MiG-29K trainer crashes over Arabian Sea
MiG-29K fighter trainer jet of the Indian Navy crashed at Arabian Sea. One of the two pilots is missing.
Economy & Corporate
Covid 19: SC directs govt. to implement its decision to forego interest on loans
The Supreme Court directed the GoI to ensure if all steps are taken to implement its decision to forego interest on eight specified categories of loans. These are loans that are paid upto ₹2 crore in view of the coronavirus pandemic.
India's GDP in July-September quarter contracts by 7.5%
India's second quarter GDP contracted by 7.5% as compared to a massive 23.9% in the first quarter of the current fiscal. The GVA contracted by 7%. The GDP had expanded by 4.4%.
8 core industries' output contracts 2.5% in October
The output of eight core infrastructure sectors dropped by 2.5% in October, 2020. It had contracted 5.5% in October 2019. This is based on the data released by the Commerce and Industry Ministry.
FDI up 15% to $30 billion during April-September 2020
The FDI of India grew by 15% to USD 30 billion during the first half of the current fiscal. Inflow of FDI 2019-20 stood at USD 26 billion during April-September. Singapore was the largest source of FDI in India during the period with USD 8.3 billion investments. This is based on the data of the Department for Promotion of Industry and Internal Trade (DPIIT).
India's fiscal deficit at 119% of full year target
India's fiscal deficit came was at 119% of the target of Rs 7.96 lakh crore according to the data released by the Controller General of Accounts on November 27, 2020 showed.
IRDAI approval for Bharti AXA-ICICI Lombard deal
Insurance Regulatory and Development Authority of India (IRDAI) gave in-principle approval for the merger of Bharti AXA General with ICICI Lombard.
World
NSA Ajit Doval calls on Sri Lankan PM Rajapaksa in Colombo
National Security Advisor Ajit Doval spoke to the Sri Lankan Prime Minister Mahinda Rajapaksa in Colombo. Sri Lanka will host the fourth national security advisor trilateral meeting on maritime security cooperation with India and Maldives on November 27-28.
SCO Secretary General praises "Self-Reliant India" initiative
Secretary General of Shanghai Cooperation Organization (SCO) Vladimir Norov has praised the "Self-Reliant India" initiative by Prime Minister Narendra Modi saying that it deserves high attention.
Russia test-fires Tsirkon hypersonic cruise missile in the Arctic
Russia successfully test-fired a Tsirkon hypersonic cruise missile in the Arctic. The missile was fired from a frigate in the White Sea and hit a naval target 450 km away in the Barents Sea at a speed of over Mach 8.
James Wolfensohn, World Bank President in 1995-2005, dies at 86
James Wolfensohn, who served as President of the World Bank from June 1995 to May 2005, on November 26, 2020 at the age of 86. Born in Australia, he became a U.S. citizen in 1980.
Former Sudan Prime Minister Sadiq al-Mahdi dies at 84 in UAE
Sadiq al-Mahdi, Sudan's prime minister and leader of National Ummah Party, the country's largest political party, died of COVID-19 on November 26, 2020 in United Arab Emirates at the age of 84. He was the last democratically elected PM of the country.
Sports
Australia beat India by 66 runs in 1st ODI at Sydney
In the first match of the ODI series, Australia defeated India by 66 runs. In response to Australia's total of 374 for six wickets in 50 overs, India finished at 308 for eight wickets in 50 overs.
Month: Current Affairs - November, 2020
Category: Today's News Headlines
Topics: Current Affairs Headlines • Current Affairs: News Headlines • Headlines • Latest News Headlines • News Headlines • Top Headlines
Latest E-Books