Benjamin Netanyahu Appointed as Prime Minister of Israel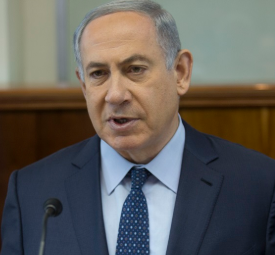 President of Israel Reuven Rivlin has formally handed Benjamin Netanyahu his letter of appointment to start building a coalition government following last week's general election.


President has stated that during his consultation with the political parties elected to the incoming 120-seat parliament 65 MPs have recommended you Benjamin Netanyahu as PM whereas 45 members supported his main rivals from the Blue and White alliance led by ex-military chief Benny Gantz and the 10 members of the Arab parties recommending nobody.
Prime Minister Benjamin Netanyahu is likely to build a coalition of 65 seats comprising Likud (35 seats), the ultra-Orthodox Shas (8), United Torah Judaism (8), Union of Right-Wing Parties (5), Yisrael Beytenu (5) and Kulanu (4). The opposition is expected to comprise Benny Gantz's Blue and White party (35), Labor (6), Hadash-Ta'al (6), Meretz (4) and Ra'am-Balad (4).
For the fifth time, Benjamin Netanyahu is going ahead with the task of putting together the government of Israel. Netanyahu will have 28 days to form a government, with the possibility of a two-week extension at the discretion of the president.
Month: Current Affairs - April, 2019
Topics: Benjamin Netanyahu • Benny Gantz • israel • Reuven Rivlin
Latest E-Books