Assam Achieves Zero Poaching of Endangered Rhinos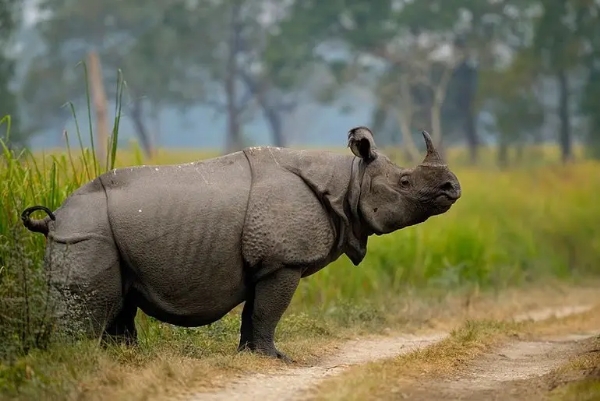 For the first time in nearly 45 years, Assam recorded zero poaching of endangered rhinos in 2022. These animals, known for their valuable horns, were poached 191 times in Assam between 2000 and 2021. The highest number of incidents occurred in 2013 and 2014, with 27 rhino deaths each reported. In 2020 and 2021, two rhinos were killed each year. The last time no poaching was reported in Assam was in 1977.
Coordinated Efforts by State Departments
Officials attribute the success in reducing rhino poaching to the sincere, concerted, and coordinated efforts of the state's forest and police departments. Upon taking office in May 2021, the special director general of police (law and order), G P Singh, made it a priority to implement zero tolerance towards rhino poaching. In June 2021, a special task force was created with Singh as its head and 22 senior police and forest department officials, including chief wildlife warden MK Yadava.
Previously, the forest and police departments worked independently to address wildlife crimes such as poaching. The task force was established to coordinate the fight against poachers. Yadava reported that the coordinated efforts have been effective, stating, "We have intelligence both from forest and police sources about activities and movements of poachers, which helps in action against them."
Database and Use of Technology
The task force compiled a database of past incidents of rhino poaching, including details of when, how, and where they occurred. Information was also collected on the entry and exit points used by poachers to access Kaziranga, Manas, Orang, and Pobitora, as well as the identities of all criminals associated with rhino poaching. The task force used this information to take tough action against poachers, including the deployment of armed commandos and the use of technology, such as drones and dog squads, to track poachers' movements.
Assam's One-Horned Rhino Population
Assam is home to nearly 2,900 one-horned rhinos, making it the largest habitat for this vulnerable species. According to the State of the Rhinos Report 2022, the total population of one-horned rhinos, found only in India, Nepal, and Bhutan, is 4,012. Poaching has long been a concern in Assam's national parks and wildlife sanctuaries, with poachers linked to international wildlife parts smuggling gangs responsible for 191 rhino deaths since 2000. In 2014 and 2015, the highest number of poaching incidents occurred, with 17 each year. The number of rhinos killed decreased in subsequent years, with 18 in 2016 and only one in 2021.
Government Commitment to Zero Poaching
The BJP-led government, which was reelected in May 2021, made a commitment to achieving zero poaching. This issue was also raised in the election manifestos of the Congress party and other political parties. In June 2021, the state government established a 22-member task force headed by GP Singh and deployed armed commandos to vigilantly and strictly combat poachers. The task force included senior forest officers and SPs from 11 districts and six wildlife divisions, as well as armed commandos from the police and state forest personnel. These resources were deployed in the core areas of rhino habitats, including Kaziranga, Manas, Orang, and Pobitora. The use of drones and dog squads helped to track poachers and bring them to justice.
Month: Current Affairs - January, 2023
Category: States Current Affairs
Topics: Assam • Endangered species • Environmental conservation • Illegal Wildlife Trade • Poaching • Rhino conservation • Wildlife crime • Wildlife trafficking
Latest E-Books