7th November: Today's News Headlines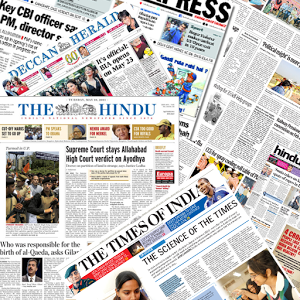 Here are Today's News Headlines for November 7, 2020.
India
Yashvardhan Kumar Sinha appointed new Chief Information Commissioner (CIC)
On November 7, 2020, Yashvardhan Kumar Sinha was appointed as the new Chief Information Commissioner (CIC) by President of India Ram Nath Kovind. Later, Uday Mahurkar (Journalist), Heera Lal Samariya (former labour secretary) and Saroj Punhani (former Deputy CAG) were appointed as Information Commissioners by Sinha.
India-Italy holds virtual summit
On November 6, 2020, India and Italy inked 15 pacts. The pacts were during a virtual summit between Prime Minister Narendra Modi and his Italian counterpart Giuseppe Conte.
New Delhi: Circular dome inaugurated at Gandhi Darshan, Rajghat
The Union Minister of Science and Technology Dr. Harsh Vardhan and Minister of State for Culture (Independent Charge) Prahlad Singh Patel inaugurated the 360 degree circular dome and Digital Exhibits at Gandhi Darshan, Rajghat, in New Delhi.
IIT Kharagpur: Centre of Excellence for Indian Knowledge System to be set up
Union Education Minister Ramesh Pokhriyal announced that a Centre of Excellence for Indian Knowledge System is to be set up IIT Kharagpur. He also inaugurated 3 days International webinar titled "Bharata Tirtha"
Indo-Dutch Centre of excellence (CoE) for vegetables and flowers in Kerala
An Indo-Dutch centre of excellence (CoE) for vegetables and flowers has been opened in Kerala's Wayanad district. The centre will focus on
production and distribution of quality planting materials to farmers,
open-field precision farming of vegetables and flowers
training programmes for farmers, entrepreneurs, and extension officers.
Economy & Corporate
India's forex reserves at $560.715 billion in the week to Oct 30
The foreign exchange reserves of India rose to 183 million USD. It reached a record high of USD 560.715 billion in the end of October 30.
Foreign currency assets (FCA) increased by USD 815 million to USD 518.339 billion.
Gold reserves declined USD 601 million in the reporting week to USD 36.259 billion.
The special drawing rights with the International Monetary Fund (IMF)decreased from USD 6 million to USD 1.482 billion.
The country's reserve position with the IMF declined by USD 25 million to USD 4.636 billion.
Italy's Snam signs pact with India's Greenko on hydrogen value chain
On November 6, 2020, Snam, an Italian energy infrastructure firm, signed an agreement with the Greenko, a renewable energy company in India, to develop the hydrogen value chain in the country. According to the agreement, the two companies will collaborate on the study of hydrogen production methods from renewables.
Tata Technologies to modernise ITIs in Karnataka
Tata Technologies signed an agreement with Karnataka government to modernise 150 state-run it is. This is to be done at a cost Rs 4,600 crore. The project cost includes investment from the state government and also from the consortium of 20 companies led by Tata Technologies.
WhatsApp Pay:  Funds transfer service launched Unified Payments Interface
On November 6, 2020, WhatsApp Pay went live on the Unified Payments Interface. The top four banks included in the network — ICICI Bank, State Bank of India, HDFC Bank and Axis Bank.
Facebook: How-to guide for Indian small businesses launched
Facebook launched how-to guide for small- and medium-sized businesses (SMB) in India. This will help them move from offline to the social network-owned online platforms. It is a step-by-step manual on how firms can build a digital presence and reach potential customers on social media.
Indian Army chief meets Nepal's PM in Kathmandu
On November 6, 2020, Nepal and India resolved issues through dialogue, in Kathmandu with Indian Army chief Gen. M. M. Naravarne.
Kerala Tourism wins World Travel Mart London Award
The World Travel Mart London bestowed Kerala Tourism with the coveted 'Highly Commended' Award. Kerala Tourism was recognised for its remarkable activities for promoting Responsible Tourism (RT) during the challenging times of COVID-19 pandemic. Kerala's Responsible Tourism (RT) Mission received this recognition in the category of 'Meaningful Connections.'
4th meeting of India-Philippines joint commission on bilateral cooperation held
On November 6, 2020, the fourth meeting of the India-Philippines joint commission was held. The two countries resolved to cooperate on maritime, strengthen defence engagement, military training.
Ethiopia: GoI launches military operations in the region of Tigray
On November 6, 2020, the Ethiopian Prime Minister Abiy Ahmed said that military operations launched in the northern region of Tigray had limited objectives. Abiy earlier announced that military operations in Tigray in response to an "attack" by the TPLF (Tigray People's Liberation Front) on a military camp there.
International Day for Preventing the Exploitation of the Environment observed
On November 6, 2020, International Day for Preventing the Exploitation of the Environment in War and Armed Conflict was observed. The objective prevent and transform tensions over natural resource as part of conflict prevention and conserve natural resources.
Month: Current Affairs - November, 2020
Category: Today's News Headlines
Topics: Current Affairs: News Headlines • Latest News Headlines • News Headlines • Top Headlines
Latest E-Books