5th November: Today's News Headlines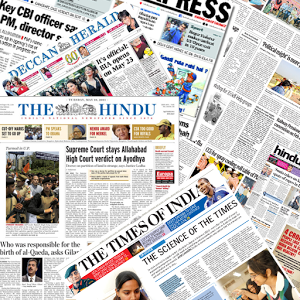 Here are Today's News Headlines for November 5, 2020
India
Prasar Bharti launches 51 Education Channels
On November 4, 2020, the Prasar Bharti signed Memorandum of Understanding with with the Bhaskaracharya National Institute for Space Applications and Geo-Informatics. The institute operates under the Ministry of Electronics and Information Technology. Under the agreement, 51 direct-to-home (DTH) education TV channels are to be launched.
GoI launches 'Nurturing Neighbourhoods Challenge'
On November 4, 2020, the Minister of Housing and Urban Affairs Hardeep Singh Puri launched Nurturing Neighbourhoods Challenge. The challenge focuses on shaping cities for young children and their families. It is conducted with the support of the Bernard van Leer Foundation, Netherlands. The technical support for the challenge is provided by WRI lndia.
GoI: Committee constituted to review guidelines on Television Rating agencies
The Ministry of Information and Broadcasting has constituted a committee to review guidelines on Television Rating agencies in India. The committee is to be headed by Prasar Bharti CEO Shashi Shekhar Vempati.
Kerala withdraws general consent accorded to CBI to probe cases
On November 4, 2020, Kerala became the fifth state after Maharashtra, West Bengal, Rajasthan and Chhattisgarh to withdraw the general consent accorded to the CBI to exercise its powers under the Delhi Special Police Establishment Act.
DRDO: New version of Pinaka rocket system test fired
On November 4, 2020, DRDO successfully test-fired a new version of the Pinaka rocket system at Chandipur, Odisha. A total of six rockets were launched. It has a range of around 37 km.
Economy & Corporate
MyGov: COVID-19 Shri Shakti Challenge won by six Women Startups
COVID-19 Shri Shakti Challenge  was won by six women led startups. The challenge was organised by MyGov in collaboration with the UN Women. It was launched in April 2020. The objective of the challenge was to encourage and involve women led startups to come up with innovative solutions to fight against COVID-19.
Adani Gas acquires Jay Madhok Energy's city gas licences in 3 cities
Adani Gas has acquired the city gas distribution (CGD) network in three Geographical Areas (GA) namely Ludhiana, Jalandhar and Kutch (East). The license was acquired from Jay Madhok Energy. These agencies are operating under Phase 1 of Bharat Mala Pariyojana by NHAI.
Union Cabinet approves Rs 1,810 crores of for 210 MW Luhri Stage-I hydropower project
On November 4, 2020, the Union Cabinet approved a proposal to invest ₹1,810 crore for 210 MW Luhri Stage-I hydropower project. The project is to be constructed across river Satluj in Himachal Pradesh. It is being implemented by Satluj Jal Vidyut Nigam Ltd (SJVNL) on Build-Own-Operate-Maintain (BOOM) basis.
World
UNGA adopts two India sponsored resolutions on Nuclear disarmament
The United Nations General Assembly has adopted two India-sponsored resolutions on nuclear disarmament. It aims to reduce risk of nuclear accidents. Also, it calls for a prohibition on the use of nuclear weapons. The two resolutions adopted were Reducing Nuclear Danger under the Nuclear weapons cluster and Convention on the Prohibition of the Use of Nuclear Weapons and
Qatar to go for its first national election
on November 4, 2020, Qatar's ruler announced that a vote to review the policy of the country is to be held in October 2021. This is the first of its kind in the region. Currently, un-elected Shura Council advises the absolute ruler, Emir Sheikh Tamim bin Hamad Al-Thani. Laws in Qatar can be overruled by a simple decree.
Saudi Arabia: Foreign workers freedom to be improved
On November 4, 2020, Saudi Arabia announced key reforms. These reforms will abolish the restrictions tying migrant workers to their employers. These conditions are related to abuse and exploitation. The reforms will allow foreign workers the right to change jobs by transferring their sponsorship from one employer to another, leave and re-enter the country and secure final exit visas without the consent of their employer.
INTERPOL creates cybercrime-related communication services
The INTERPOL created two secure and flexible services to facilitate cybercrime related communication among law enforcement agencies and other stakeholders. The Cybercrime Knowledge Exchange workspace will handle general, non-police information and is open to all relevant users. The Cybercrime Collaborative Platform-Operation will assist in the law enforcement operations, with access restricted to the operational stakeholders only.
All 4 Democratic Indian-Americans re-elected to House of Representatives
All the four Indian-American Democratic lawmakers — Dr Ami Bera, Pramila Jayapal, Ro Khanna and Raja Krishnamoorthi — have been re-elected to the US House of Representatives.
Month: Current Affairs - November, 2020
Category: Today's News Headlines
Topics: Current Affairs: News Headlines • Latest News Headlines • News Headlines • November 5 • Top Headlines
Latest E-Books