4th BIMSTEC summit concludes with adaptation of Kathmandu Declaration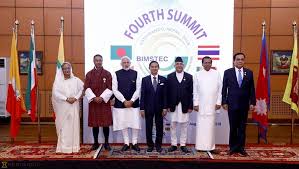 The 4th BIMSTEC Summit concluded in Kathmandu with signing and adoption of Kathmandu Declaration by all the seven members (India, Nepal, Bangladesh, Bhutan, Sri Lanka, Myanmar and Thailand). After conclusion of summit, current chair of BIMSTEC, Nepal PM KP Sharma Oli also handed over Chairmanship of next (fifth) BIMSTEC Summit to Sri Lankan President Maithripala Sirisena. During this summit, foreign ministers of BIMSTEC member countries had signed Memorandum of Understanding (MoU) on establishment of BIMSTEC Grid Interconnection.
Kathmandu Declaration
18-point Kathmandu Declaration aims to enhance effectiveness of BIMSTEC Secretariat by engaging it in various technical and economic activities in the region. It acknowledges importance of trade and investment as one of major contributing factors for fostering economic and social development in the region. It also deplored terrorist attacks in all parts of the world, including in BIMSTEC countries, and strongly condemned terrorism in all its forms.
It also reiterated strong commitment of BIMSTEC countries to combat terrorism and called upon all countries to devise comprehensive approach in this regard. Member countries also agreed to expedite conclusion of BIMSTEC Convention on Mutual Legal Assistance in Criminal Matters and called upon member states for its early ratification. It also expressed satisfaction that many member states have ratified BIMSTEC Convention on Cooperation in Combating International Terrorism, Transnational Organized Crime and Illicit Drug Trafficking.
BIMSTEC countries also agreed to establish seamless multi-modal transportation linkages and smooth, synchronised and simplified transit facilities through the development, expansion and modernisation of highways, railways, waterways, sea routes and airways in the region. They also decided to speed up efforts to conclude BIMSTEC Coastal Shipping Agreement and BIMSTEC Motor Vehicle Agreement as early as possible taking into account special circumstances and needs of the member states.
BIMSTEC countries also decided for early conclusion of BIMSTEC Free Trade Area (FTA) negotiations, and directed the BIMSTEC Trade and Economic Ministerial Meeting and its subsidiary bodies, including Trade Negotiating Committee, to expedite finalisation of all related agreements of FTA as early as possible.
BIMSTEC countries also called for exploring possibility of establishing BIMSTEC Development Fund with voluntary contributions from member states. The fund will be utilised for research and planning of BIMSTEC and financing of projects, and other activities of regional organisation.
Month: Current Affairs - September, 2018
Topics: BIMSTEC • BIMSTEC Grid Interconnection • International • Kathmandu Declaration • Nepal • Sri lanka
Latest E-Books