2019 Pulitzer Prizes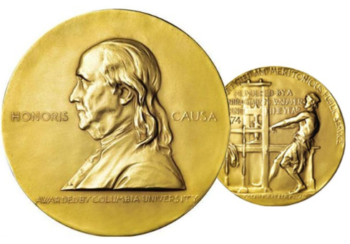 The winners of the 2019 Pulitzer Prizes have been announced. The winners in the category of Letters, Drama and Music are listed below:
Fiction: The Overstory, by Richard Powers (W.W. Norton).
Drama: Fairview, by Jackie Sibblies Drury.
History: Frederick Douglass: Prophet of Freedom, by David W. Blight (Simon & Schuster).
Biography: The New Negro: The Life of Alain Locke, by Jeffrey C. Stewart (Oxford University Press).
Poetry: Be With, by Forrest Gander (New Directions).
General Nonfiction: Amity and Prosperity: One Family and the Fracturing of America, by Eliza Griswold (Farrar, Straus and Giroux).
Music: Prism, by Ellen Reid.
The Pulitzer Prize is awarded for achievements in newspaper, magazine and online journalism, literature, and musical composition in the United States. Established in 1917 by provisions in the will of Joseph Pulitzer who had made his fortune as a newspaper publisher, the awards are administered by Columbia University in New York City.
Prizes are awarded yearly in twenty-one categories. In twenty of the categories, each winner receives a certificate and a US$15,000 cash award and the winner in the public service category of the journalism competition is awarded a gold medal.
Category: Awards, Persons & Places in News
Topics: 2019 Pulitzer Prizes • Amity and Prosperity: One Family and the Fracturing of America • Be With • Columbia University • David W. Blight • Eliza Griswold • Ellen Reid • Fairview • Forrest Gander • Frederick Douglass: Prophet of Freedom • Jackie Sibblies Drury • Jeffrey C. Stewart • Joseph Pulitzer • New York • Prism • Pulitzer Prizes • Richard Powers • The New Negro: The Life of Alain Locke • The Overstory
Latest E-Books