14th Organisation of Islamic Cooperation (OIC) summit held in Mecca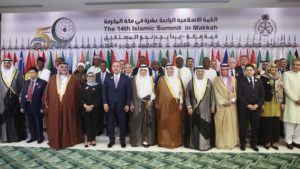 The 14th summit of the Organisation of Islamic Cooperation (OIC) held in Mecca, Saudi Arabia was hosted by Saudi King Salman bin Abdul Aziz Al Saud.
Key Highlights of Summit
Agenda: The official agenda of meeting was to address 'current issues in Muslim world' and 'recent developments in a number of OIC member states. Also, amid soaring tension between Iran and the US and its Gulf allies the OIC summit discussed the regional security issues. The Mecca summit supported Palestinians and backed Saudis in Iran standoff.
Background: In December 2017, The United States President Donald Trump broke the decades of established protocol by recognizing Jerusalem as Israel's capital. In May 2018 US embassy was transferred from Tel Aviv to Jerusalem. The suit was soon followed by Guatemala.
Political leaders and heads of state from Islamic nations unanimously condemned countries including United Sates decision of making "illegal and irresponsible decision" to recognise Jerusalem as the capital of Israel.
In a joint statement at OIC summit in Saudi Arabia, the leaders called on countries  that have moved their embassies to Jerusalem (by recognizing it as Israel's capital) to rethink their strategy and which OIC considered as a serious violation of international law and international legitimacy.
About Organisation of Islamic Cooperation (OIC)
It was established in 1969 by 24 member states and presently has 57 member states from four continents.
Members: Out of total 57 member states the organisation has several significant non-Arab member states, like Turkey, Iran and Pakistan. The 22 members of the Arab League are also part of OIC. It has five observer members, including Russia and Thailand.
With a collective population of more than 1.8 billion, it is the second largest intergovernmental body after the United Nations (UN).
Objective: As per OIC charter, it aims to preserve Islamic values, safeguard and defend national sovereignty and independence of its member states and also to contribute to international peace and security.
OIC states itself as 'the collective voice of the Muslim world' and works towards protecting interests of Muslim world.
Summit: OIC holds an Islamic Summit once every three years at which heads of state discuss ways to achieve OIC's charter's objectives and make policy decisions that concern its member states.
OIC has permanent delegations to the UN and the European Union (EU)
Its official languages are Arabic, English and French.
Month: Current Affairs - June, 2019
Topics: 14th Organisation of Islamic Cooperation Summit • EU • European Union • Guatemals • Islamic Summit • Jerusalem • Mecca • OIC Summit • Palestine • Saudi Arabia • Tel Aviv • UN • United Nation • United States • US-Israel
Latest E-Books