Samudragupta
Samudragupta (reign 335-380 AD) was son of Chandragupta –I and Kumaradevi. He ascended the throne in 335 AD. Before his death, probably 4 or 5 years back, Chandragupta-I had publicly announced that Samudragupta would be his heir apparent and thus abdicated the throne in his favor. This was justified by the killer instincts of Samudragupta who displayed a greater degree of skill in the arts of both peace and war. But this nomination was perhaps not liked by many and coins of an obscure prince Kacha say that there was some trouble over the succession.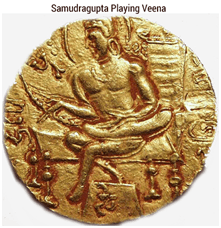 Samudragupta was the greatest ruler of the Gupta Dynasty and ruled till around 380 AD.
The western scholars equate him with Napoleon and call him Indian Napoleon due to the extensive military conquests. His court poet and minister Harisena composed the Allahabad pillar Inscription or Prayag Prasasti. The Pillar was an Asokan Pillar erected by Asoka six century before him.
This Inscription is a eulogy of Samudragupta and mentions about the conquests of Samudragupta and boundaries of the Gupta Empire. As per this inscription, Samudragupta defeated 9 kings in North, 12 Kings in South, reduced all the Atavika states to vassalage. It also mentions that more than five states in the frontier states surrendered and accepted his suzerainty. He had close contact with the kingdom of Ceylon and South East Asian colonies. The eulogy of Harisena describes him as hero of 100 battles. He performed Ashvamedha Yajna, this has been testified by a seal of Samudragupta bearing a Horse. This was probably first Ashvamedha after Pushyamitra Shunga.
He is depicted in his coins playing Veena. He allowed the king of Ceylon to build a monastery at Bodhgaya.
Another term used by Harisena for him is Kaviraja, which testified him as a patron of poetic arts and a poet himself. Samudragupta also assumed the title of Vikramanka. The reign of Samudragupta was from Brahmaputra to Chambal and from Himalaya to Narmada in south and he subdued the Shakas and Kushanas. The dominion under the direct government of Samudragupta in the middle of the 4th century was thus comprised of all the populous and fertile areas of the Northern India.
He established diplomatic relations with the Kushana Kings of Gandhar and Kabul and also the Buddhist king of Ceylon.
In 330 AD, Meghavarna, the Buddhist King of Ceylon had sent two monks, one of whose was his brother to visit a monastery built by Asoka. But they got scant hospitality and returned with complaints. Later, Meghavarna sent a mission laden with gems and gifts to Samudragupta with a request to built a monastery on the Indian Soil. The flattered Samudragupta gave permission.
This monastery was built near the Bodhi Tree at Bodh Gaya. The purpose was recorded in a copper plate and it described the monastery with a height of 3 stories and containing 6 halls.
When Huen Tsang visited it he saw it occupied by Thousands of Monks and it extended ample hospitality to visiting monks.
Shaka embassy to Samudragupta:

The Saka dynasty which was overthrown in 395 had been originally founded in the first century by a chief named Bhumaka. Bhumaka was followed by Nahapana and Nahapana was destroyed by an Andhra King Gautamiputra Satkarni in 125 AD. However, the local government fell into the hands of Chastana and his descendants. In the Middle of the second century, Satrap Rudradaman who was grandson of Chastana defeated his Andhra Rival Vashishtiputra Satakarni, who was eventually married to his daughter. Rudradaman firmly established his power in west (Malwa, Kutch, Sindh, Konkan and other parts). The capital of Chastana and his descendants was Ujjain, which was one of the important commercial centers.
Samudragupta was not able to undertake the conquest of the west and had received an embassy from Rudrasena, descendant of Rudradaman. But the rivalry did not ended and Chandragupta II, son of Samudragupta finally crushed his western rivals.