S. H. Raza
Syed Haider Raza (born 1922), is the 2013 Padma Vibhushan awardee. He was born in Babaria, Mandla (Madhya Pradesh), studied at the Nagpur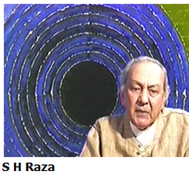 School of Art and later went to Sir J.J. School of Art, Bombay. In 1946, his first solo show was held at Bombay Art Society Salon for which he also was awarded the Silver Medal. He then went to France in October 1950 on a Government of France scholarship. He studied at the Ecole Nationale Superieure Des Beaux-Arts (ENSB-A) in Paris from 1950 to 1953. He travelled across Europe after his studies, and lived and exhibited his work in Paris. In 1956, he became the first non-French artist to be awarded the

Prix de la critique.
Painting Style – The Razabindu

For Raza, Bindu is a point where he concentrates, his energy, his mind, and has become his Bhagvat Gita, Swadharm etc. For him, the 'bindu' has been a vast subject with its variations throughout his life. Raza's works make price history.


Bindu shows the emergence of symbolic and ritual elements in traditional art as pure abstractions. Abstraction is the dominant element in Raza's Bindu series at the turn of the 1980s.


Hailed as one of the country's most expensive artists, he set a milestone last year when his work, 'Saurashtra', sold for Rs16.42 crore in an auction at Christie's.

He uses very rich colours, replete with icons from Indian cosmology as well as its philosophy. His works are mainly abstracts in oil or acrylic. Raza's style has evolved over the years. His paintings eventually became more abstract in nature. From his fluent water colours of landscapes and townscapes, he moved towards a more expressive language painting landscapes of the mind.
Awards

In the year 1981, he was awarded the Padma Shri and Fellowship of the Lalit Kala Akademi.. In 2010, he became India's priciest modern artist seminal work, 'Saurashtra' which was sold for

16.42 crore INR. He was honoured with the Padma Bhushan in 2007 and in 2013; he was awarded Padma Vibhushan by the Government of India.
Video from our Channel
Tags:Indian Paintings , S. H. Raza
Random Articles