Marketing Aptitude: Co-operative Banks
The co-operative banks are small-sized banking units which operate both in urban and non-urban centers. They finance small borrowers in retail sector, industrial sector, agricultural sector and rural sectors. These banks are registered under the provisions of Co-operative Societies Act, regulated by the Reserve Bank of India (RBI) and governed by the Banking Regulations Act, 1949 and Banking Laws (Co-operative Societies) Act, 1965. They function on the basis of "no-profit no-loss" criteria. They are organized at three levels:  village level, district level and state level.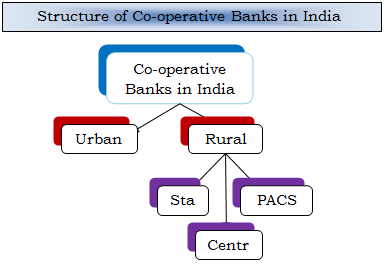 Types of Co-operative Banks
There are two types of Co-operative Banks operating in India viz. Urban Co-operative Banks (UCBs) and Rural Co-operative Banks.
Urban Co-operative Banks (UCBs): – The Urban Co-operative Banks (UCBs) are also known as the primary cooperative banks, operate in urban and semi-urban areas. These are small-sized co-operatively organized banking units to cater the needs of small borrowers viz. small scale business units, retail traders, professionals, salaried classes, etc.
Rural Co-operative Banks: – These are further divided into three parts. These are as follows: –
State Co-operative Banks: – These cooperative banks works at the apex level in states. They mobilize funds and help in their proper channelization among various sectors. The money reaches the individual borrowers from the State Co-operative Banks through Central Co-operative Banks and the Primary Credit Societies.
Central Co-operative Banks: – These banks works at the district level, provide loans to their members (i.e. primary credit societies) and function as a link between the primary credit societies and state co-operative banks.
Primary Agricultural Credit Societies (PACS): -The PACS operate at the village or grass-root level. The operations of each society are restricted to a small area so that the members know each other and are able to watch over the activities of all members to prevent frauds.
Latest E-Books