Khongjom Day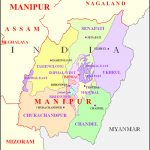 A small group of delegates in Manipur observed the Khongjom Day at the Khongjom War Memorial, in light of the COVID-19 crisis.
About Khongjom Day
Khongjom Day is a state event observed in Manipur every year on April 23rd. It is an event that commemorates the Battle of Khongjom (Anglo- Manipur War). It also pays tribute to martyrs who fought for the state's freedom.
Khongjom War Memorial
The Khongjom War Memorial is located in Khonjom in Thoubal district of Manipur. It is the historical war memorial site of the Anglo- Manipur War. It is noted for housing the world's tallest statue of a sword. The site has a historical value and is also a major tourist site in Manipur.
Anglo- Manipur War
The Anglo- Manipur War was fought between the Kingdom of Manipur and the British Empire in 1891. It had resulted in British victory. The war had roots in the dispute in the royal family after the ascension of Surchandra Singh. This discord between the princes was made use of by the British to gain control over the region.
Topics: Anglo-Manipur War • British Colonialism • Manipur
Latest E-Books