India's Livestock Population
India has vast resources of livestock and poultry, which play a vital role in improving the socio-economic conditions of the rural masses. India ranks

first in respect of buffalo,


Second in cattle & goats,


Third in sheep,


Fourth in ducks,


Fifth in chickens


Sixth in Camel population in the world.


India has 57% of the world's buffalo population.

The following table shows India's Livestock Population: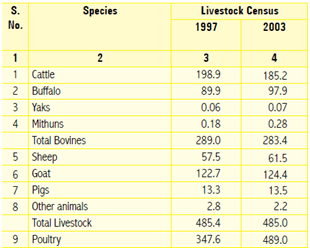 Source: Department of Animal Husbandry, Dairying and Fisheries, values in millions

The above table makes it clear that India had 283.4 million total bovines in 2003 census out of which the largest share was of Cattle.


Total Population of Goats is more than that of sheep.


India's Total Livestock was 489 million in 2003.