Economic Activities Along Industrial Corridors in India
Make in India is an exemplary initiative of the Central Government that is slated to work on 25 fronts in as many sectors to steer India's growth story. The drivers will be a lethal combination of low-skill and high-skill industry and services. It also aims to reap the maximum benefit from the demographic dividend by successfully assist the journey of 130 million new workers from farm to factories so they can avail the opportunities of the urban surge. This can be realised by adopting a new scale of urbanism under which the areas along the  5 major industrial corridors are developed equally. The five corridors are:
DMIC: Delhi-Mumbai Industrial Corridor
CBIC: Chennai-Bengaluru Industrial Corridor
CVIC: Chennai-Vizag Industrial Corridor (First phase of East Coast Economic Corridor)
MBIC: Mumbai-Bengaluru Industrial Corridor
AKIC: Amritsar-Delhi-Kolkata Industrial Corridor
5 Smart Cities namely-Dholera, Shendra-Bidkin, Greater Noida, Ujjain and Gurgaon are being developed with the same principle in mind. The government is considering setting up of National Industrial Corridor Authority to coordinate, integrate, monitor and supervise all the development and fund allocation for the above cities.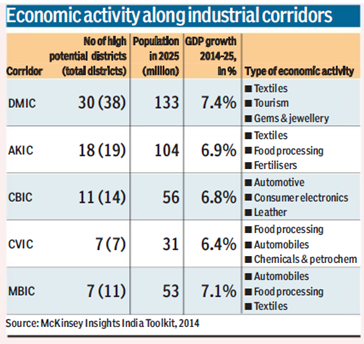 Some notable facts which support the development of such cities are:

Five corridors run along 89 districts, 75% of which comprise 183 high potential districts that will account for 77% of India's GDP from 2012-2025
68 of these corridor districts will support 40% of India's incremental GDP.
24 districts will report 5% increase in growth rate by 2020. Such regions grow at a rate of 10% due to a great head-start.
A series of economic activities can propel the development of these districts. E.g. incentivising textile industry, promoting manufacturing of apparels, plastic manufacturing on small-scale, etc. Likewise vocational training centres can help boost worker productivity and even accelerate the participation of women
There are many bottlenecks which India needs to address to succeed on this route:
Issues with land acquisition and environmental clearances
Role of private players in the Smart City development is under scan
Ease of Doing Business Report of the World Bank has painted a dismal picture for India
Pressing need for many administrative reforms to ensure effective implementation.