Coconut Palm Insurance Scheme (CPIS)
Although Coconut is a perennial crop, yet the cultivation is subjected to risks from climatic changes, natural disasters, pests, diseases etc. Further, palm trees are characterized by periodic system of crop setting and outcomes and hence resemble seasonal annual crops. Moreover, coconut is cultivated under rain-fed management and is susceptible to biotic and abiotic stresses.  Due to the above reasons, there is a separate insurance scheme for Coconut palm growers.
Insurance Companies
Insurance companies are authorised by DAC, Government of India.
Scheme Operation
This component is active only on those states and UTs home to Coconut cultivators. Individual farmer/ planter / grower offering at least 5 healthy 'nut' bearing palms in contiguous area / plot will be eligible for insurance.
Coconut Development Board (CDB) makes every effort to get all bearing and healthy palms insured. Healthy 'nut' bearing coconut palms of all varieties i.e. Tall, Dwarf and Hybrids grown as mono or intercropped, on bunds, farms or homestead can be covered. The scheme covers following perils leading to death / loss of palm or palm becoming un-productive:
Storm, hailstorm, cyclone typhoon, tornado, heavy rains
Flood and inundation.
Pest and diseases of widespread nature causing, irreparable damages to palm.
Accidental fire, including forest fire and bush fire, lightening
Earth quake, landslide and tsunami
Severe drought and consequential total loss
Kindly note that individual palm trees are indemnified in this insurance scheme. For example, if a palm of age between 4-15 years renders itself unproductive, the sum assured is Rs. 900 per palm and when a palm above this age but below 60 years, the sum assured is Rs. 1750 per palm.
Premium and Premium Subsidy
Premium is Rs. 9 per year for a palm of age between 4 to 15 years while that is Rs. 14 per palm for palms of age group 16 to 60 years. On premium, 50% subsidy is paid by Coconut Development Board (CDB) and 25% by State Government concerned and balance 25% of the premium will be paid by farmer / grower. Insurance is done on annual basis but farmers can also insure for a maximum of three years on some rebate on discount.
Coconut Producing states of India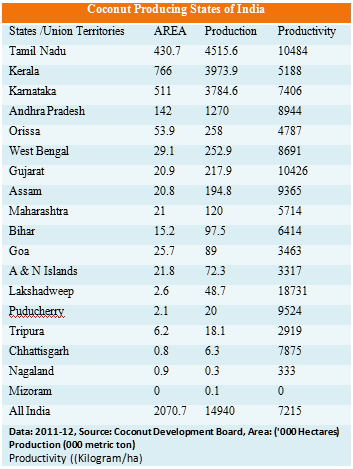 Latest E-Books