Daily UPSC Prelims Current Affairs – September 03, 2022 [Mock Test]
1.
With respect to the World Competitiveness Index -2022, consider the following statements:
India witnesses the sharpest rise among Asian economies with a jump from 43rd to 37th
Switzerland has topped the ranking.
Singapore is the only Asian economy to rank among top 10 economies.
Which of the statements given above is/are correct?
2.
Consider the following statements:
The theme of Ex VINBAX – 2022 is employment and deployment of an Engineer Company and a Medical Team as part of United Nations Contingent for Peace Keeping Operations.
Quad nations along with Indonesia and South Korea participated in Sea Dragon 2022.
Ex MILAN was incepted by Indian Navy in 1995.
Which of the statements given above is/are correct?
3.
Dark Sky Reserve (DSR) was in news recently, which of the following statements regarding DSR are correct?
Changthang Wildlife Sanctuary at Hanle is India's first DSR.
DSR restricts artificial light pollution.
DSR promotes astronomy.
Choose the correct answer using the codes given below: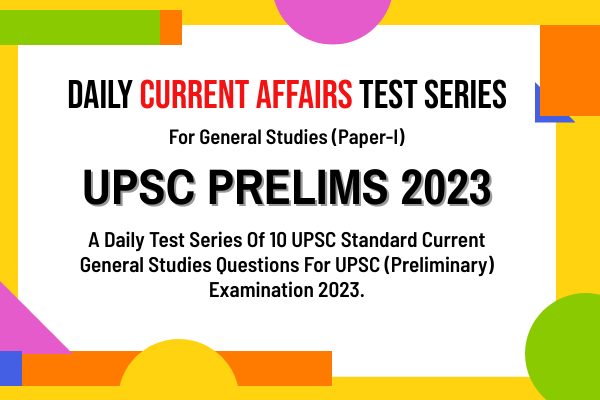 The above questions are part of Daily Current Affairs Test under
UPSC Prelims Test Series - 2023
in GKToday Android Application. This series can be subscribed in the app only.
Download Now
Category: Daily Current Affairs Test for UPSC Prelims Examination 2023
Tags: upsc prelims test series 2023
Latest E-Books