World's oldest maritime astrolabe that guided ships to India found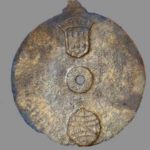 Britain-based shipwreck hunter has found maritime astrolabe, a navigation tool that guided Portuguese explorers on perilous voyage to India in 16th century. It dates between 1495 and 1500 and has been confirmed as world's oldest astrolabe.
The maritime astrolabe was discovered during from a shipwreck off coast of Oman in 2014 and recently was confirmed world's maritime oldest by Warwick University based on laser scans.
Key Facts
The maritime astrolabe is 17.5-centimetre wide and is made of bronze disc. It carries personal emblem of King Manuel I of Portugal, who came to throne in October 1495. It is claimed that it was discovered from shipwreck of ship called Esmeralda, which was part of Vasco da Gama's second expedition to India of 1502-1503 and was captained by explorer's uncle. Vasco Da Gama was first European to reach India by sea in 1498 and his discovery of sea route had opened way for age of colonialism and trade between Europe and Asia.
Astrolabe
An astrolabe is an elaborate inclinometer, historically used by astronomers and navigators to measure inclined position in sky of celestial body, day or night. It can be used to identify stars or planets and to determine local latitude on land or calm seas given local time (and vice versa) and to survey. The Portuguese were at forefront of developing astrolabes at sea. The oldest reference of them using them at sea is about 1480. The previous oldest maritime astrolabe was on a ship from 1533.
Month: Current Affairs - October, 2017
Category: Art & Culture Current Affairs
Topics: Art and Culture • David Mearns • History • Navigation Tool • Science and Technology • Worlds Oldest Astrolabe
Latest E-Books