World's largest congregations of Muslims Aalmi Tabligi Ijtima concludes in Bhopal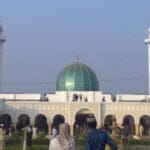 One of the world's largest congregations of Muslims Aalmi Tabligi Ijtima (World preacher's congregation) concluded with ijtamai dua or mass prayer in Bhopal, Madhya Pradesh.  It was three day congregation which started on 5th December 2014.
On the concluding day, renowned Islamic scholar delivered religious discourses during the congregation.
After end of this religious preaching, groups or jamaats have started leaving for different parts of the country and the world.
The government of Madhya Pradesh had provided electricity, water supply and security along with parking places for the convenience of Jamaats.
About Aalmi Tabligi Ijtima
The first ijtema was organised in 1949 at Masjid Shakoor Khan in Bhopal's old walled city. In 2005 the venue was shifted to to Ghasipura, 11 km from Bhopal because of the heavy crowd gathering.
Usually, it is held on a Saturday, Sunday and Monday every year in December.
Activities: In this congregation, Jamaats gather from around the world. It begins with Fajr salah on Saturday morning followed by a series of lectures from different Muslim scholars and clerics on variety of subjects including the Islamic way of life and the Six Principles about faith and peace.
The program continues all weekend and concludes with final prayers on Monday afternoon. Mass marriages also take place on Saturday and Sunday.  After the final prayer, Jamaats are formed which then travel around the world to preach a about Islam.
Month: Current Affairs - December, 2014
Topics: Current Affairs - 2017
Latest E-Books