World's first cloned goat bearing Cashmere wool born in China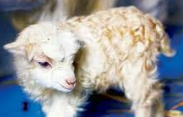 The world's first cloned goat bearing superfine Cashmere wool has born in north China's Inner Mongolia Autonomous Region. Cashmere fibre obtained from the goat is 13.8 micrometres. It is less thick than the average 15.8 micrometres thick obtained from the famous Erlang Mountain goats in Inner Mongolia. The goat will be raised for carrying out research by experts from agricultural universities and academics in Inner Mongolia and Yunnan Province.
Cashmere wool is a fibre obtained from Cashmere and other type of goats. It will be finer and softer than the sheep's wool.
Topics: Bovidae • Caprids • Cashmere • Cashmere wool • Goats • Hexi Cashmere • Pashmina • Textile • Wool
Latest E-Books