World Bank approves $375 million loan for National Waterway-1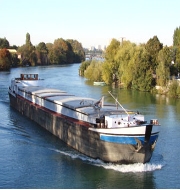 The World Bank has approved a loan of $375 million (around Rs 2,421 crore) for capacity augmentation of National Waterway-1 (NW-1) between Haldia in West Bengal and Varanasi in Uttar Pradesh on the river Ganga under the Jal Marg Vikas Project (JMVP). The project would enable commercial navigation of vessels of 1,500-2,000 deadweight tonnes capacity along a 1,390-km stretch.
Jal Marg Vikas Project is a project on the river Ganga that envisages the development of waterway between Allahabad and Haldia that will cover a distance of 1620 km. It aims to develop a fairway with three metres depth to enable commercial navigation of at least 1500 tonne vessels on the river.  The project includes the development of fairway, multi-modal terminals, strengthening of open river navigation technique, conservancy works, modern River Information System (RIS) etc.
As a part of the project, Inland Waterways Authority of India will set up a River Information Service System on NW-1, the first of its kind in India. Besides, three multi-modal terminals, one each at Varanasi, Sahibganj (Jharkhand), Haldia; and inter-modal terminals at Kalughat and Ghazipur; a navigation lock at Farakka; and five Roll on-Roll off (Ro-Ro) terminals would be constructed.
Need
The rail and road corridors of this region have been crippled with heavy traffic and have become saturated. Hence, the development of NW-1 would pave way for an alternative, viable, economical, efficient and eco-friendly mode of transport.
NW-1
National Waterway-1 (NW-1) is a waterway passing through Uttar Pradesh, Bihar, Jharkhand and West Bengal, potentially serving the major cities of Haldia, Howrah, Kolkata, Bhagalpur, Patna, Ghazipur, Varanasi, Allahabad and their industrial hinterlands including several industries located along the Ganga basin.
Inland Waterways Authority of India
Inland Waterways Authority of India (IWAI) is the statutory body in charge of the waterways in India. Its headquarters is located in Noida, UP. Its main function is to build the necessary infrastructure in the inland waterways, surveying the economic feasibility of new projects and also carrying out administration and regulation.
River Information system (RIS)
RIS is a combination of modern tracking equipment comprising of hardware and software designed to optimise transport and traffic processes in inland water navigation. The system has the capability to enhance swift electronic data transfer between mobile vessels and Base stations through advance and real-time exchange of information. It enables safe and efficient inland water transport by avoiding risks such as (i) Ship-to-Ship collisions. (ii) Ship-Bridge collisions. (iii) Groundings.
Inland Waterway Authority of India (IWAI) is implementing the RIS in India.
Month: Current Affairs - April, 2017
Topics: Inland Waterways • National • World Bank
Latest E-Books