What is the reason of huge protests in Algeria?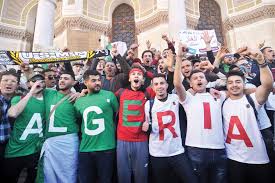 Algerian capital of Algiers is seeing a huge crowd for a fourth consecutive Friday raising demands of a compelling change to bring about an end to the rule of President Bouteflika who has been in power for 20 years. Protestors were largely draped in the red, green and white colours of the Algerian flag. The protestors numbered in many hundreds of thousands as the rally was the biggest ever since the rallies had begun in February.
Many other cities like Bejaia, Oran, Tizi Ouzou, Batna also saw demonstrations. The rally was seen as the main test if an 82-year old leader has been able to calm the anger of people on the streets successfully after he had made a surprise announcement that he will not look for re-election and will actually get the elections cancelled which was scheduled for April 18. People are shouting slogans saying that "you pretend to understand us, we will pretend to listen to you". There is little room left for the President to stay in power. Although the protests had been largely peaceful, 75 protestors have been detained and around 11 policemen suffered minor injuries. The pressure ensures that it will be hard for the President to continue to remain in power.
Protestors who were initially overjoyed to hear the announcement that Bouteflika will not stand in the elections but was taken aback by the move that the President had cancelled the vote. People were accusing Bouteflika that he was playing tricks thereby starting a new round of protestors. Bouteflika also named the former interior minister Noureddine Bedoui as the new Prime Minister thus replacing the infamous PM Ahemed Ouyahia. Bedoui has supported the postponement of the elections.
The protest has been triggered by the students. Half the population of the country is below 30 and there is rising youth unemployment. Unemployment is the primary reason which has increased the anger of people against the government.
The military has also stayed in barracks all through the crisis and has distanced itself from the President. The military which has played the role of a power broker is expected to retain power in any situation even in future. Bouteflika has hardly given any public appearances ever since 2013 and has promised to hold a national conference for taking the reforms further.
The President has further stated that he will make sure that the elections are held before the end of 2019 thus signalling that he may stay in the office for another year.
Related Posts
Category: Uncategorized
Topics: Abdelaziz Bouteflika • Africa • Ahmed Ouyahia • Algeria • Algerian protests • Bouteflika • Countries • Politics by country • Politics of Algeria
Latest E-Books