First wet mid-air refuelling of LCA Tejas successfully carried out using IL-78 MKI tanker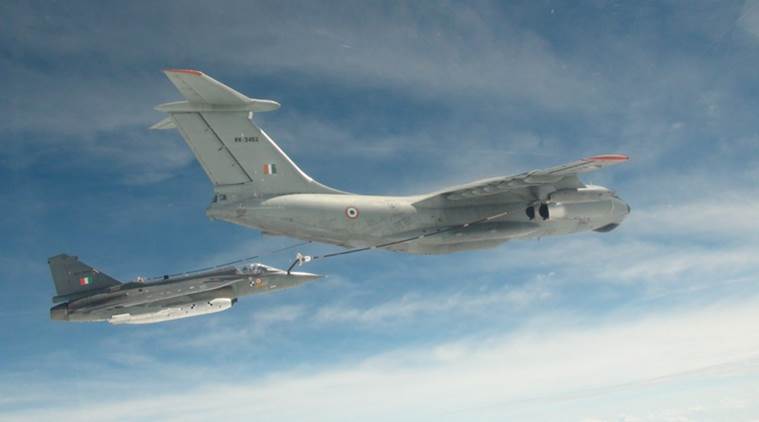 Indian Air Force (IAF) successfully carried out first ever mid-air refuelling of indigenously developed Light Combat Aircraft (LCA) Tejas MK-1 over Gwalior, Madhya Pradesh. With this, India joins in elite group of countries which have successfully developed air-to-air refuelling system for military aircraft.
LCA Tejas mid-air refuelling
It was first wet mid-air refuelling of LCA Tejas (LSP8) carried out by transferring 1,900 kg of fuel from IAF's Russian-origin Ilyushin-78 (IL-78) tanker at altitude of 20,000 feet. This operation had refueled all internal tanks and drop tanks of LCA Tejas.
Before this wet contact trial, IAF had successfully conducted 'dry-air refuelling contact trials' where drogue (basket) extended from tanker aircraft IL-78 by fuel hose, which was only tracked and plugged into using LCA's Tejas' refuelling probe without transfering fuel.
Significance
With this first trial of air-to-air refueling, LCA gets much closer to important battle-ready tag, called final operational clearance (FOC). Besides, air-to-air refuelling capability for LCA will be force multiplier for IAF as it enhances potential of aircraft to stay airborne for much longer periods of time, thus increasing its range and endurance. It will also enable IAF options to exploit operational potential of LCA as well as to participate in international exercises without having to stop or stage through several locations enroute.
Background
IAF currently operates nine LC Tejas fighters built to Initial Operating Clearance (IOC) standard built indigenously by Hindustan Aeronautical Limited. These jets are being flown by No. 45 Squadron named Flying Daggers (It is first LCA Tejas Squadron) based at Sulur Air Force Station in Tamil Nadu. IAF has placed ordered of 123 LCA Tejas variants at cost of Rs 70, 000 crores to Hindustan Aeronautical Limited (HAL). Among the 123 planes on order, 20 each are in IOC and more advanced final operational clearance (FOC) configurations, while remaining 83 are in Mk-1A configuration that comes with additional improvements
Month: Current Affairs - September, 2018
Category: Defence Current Affairs
Topics: Defence • IL-78 MKI tanker • Indian Air Force • LCA-Tejas • Mid-air Refuelling
Latest E-Books