Virendra Kumar: Pro-tem Speaker of 17th Lok Sabha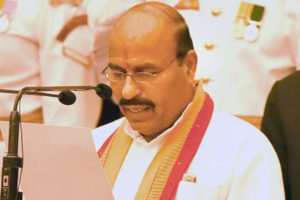 The Bharatiya Janta Party's (BJP) Member of Parliament (MP) from Madhya Pradesh Dr Virendra Kumar will be the Pro-tem Speaker of 17th Lok Sabha.
Key Highlights
The 65 year old Virendra Kumar, is a seven-term MP. He won the 17th Lok Sabha election from Tikamgarh Lok Sabha constituency. Tikamgarh is one of the 29 parliamentary constituencies in Madhya Pradesh. He served as Minister of State (MoS) in previous Narendra Modi government (2014-2019).
The 1st all-party meet will be convened on 16 June 2019, before the 1st session of 17th Lok Sabha that will be held from 17 June to 26 July 2019.
Function: As Pro-tem Speaker, he will preside over the 1st sitting of newly constituted Lok Sabha, administer the oath of office to newly elected MPs, and also oversee the election of LS Speaker.
In the first week of session of 17th Lok Sabha, the Speaker and the Deputy Speaker to Lok Sabha will be elected.
About Pro-tem Speaker
The word Pro-tem is a Latin phrase which in English means 'for the time being' of 'temporary'. Thus a Pro-tem Speaker performs the duties of office of Speaker from commencement of 1st sitting of newly constituted Lok Sabha till the election of the Speaker. This is because Speaker of last Lok Sabha vacates his office before the 1st meeting of newly elected Lok Sabha.
The Article 94 of constitution states that previous Speaker must resign immediately before 1st sitting of the new Lok Sabha.
Article 93 of constitution states that, a Speaker and Deputy Speaker to Lower House of Parliament must be elected in 1st sitting of Lok Sabha.
The appointment of Pro tem speaker is a convention and there is no provision mentioned in the Constitution for this position.
President appoints and administes the oath of a member of Lok Sabha as Pro-tem Speaker. By convention a seniormost Lok Sabha member is usually is selected.
A Pro-tem Speaker has powers same as a Lok Sabha Speaker. His main duty is to administer oath to newly elected members of parliament and election of new Speaker.
The office of Pro-tem Speaker ceases to operate once new Speaker is elected by members.
Month: Current Affairs - June, 2019
Category: Awards, Persons & Places in News
Topics: 17th Lok Sabha • Article 93 • Article 94 • Deputy Speaker of Lok Sabha • lower house of parliament • Member of parliament • Minister of State • Narendra Modi • Parliament • President of India • Pro-tem Speaker • Pro-tem Speaker of 17th Lok Sabha • Speaker of Lok Sabha • Virendra Kumar
Latest E-Books