Vinesh Phogat books Olympic Quota with World ChampionShip Bronze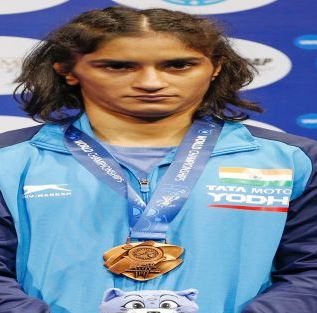 Wrestler Vinesh Phogat booked her spot for the 2020 Tokyo Olympics by winning the Bronze Medal at the World Championships.
Bronze Medal at World Championships
Vinesh Phogat defeated two-time world bronze medalist Maria Prevolaraki of Greece in the bronze medal bout of 53 kg freestyle category.
Vinesh Phogat is only the fourth Indian female wrestler to win a medal at the World Championships.
Vinesh Phogat becomes the first Indian wrestler to secure an Olympic quota for the 2020 Tokyo Games.
Vinesh Phogat's Journey in World Championships
The 25-year-old wrestler Vinesh Phogat began her journey in World Championships by securing a thunderous 13-0 win over Rio Olympic bronze medallist Sofia Mattsson of Sweden.
The reigning world champion Mayu Mukaida of Japan proved to be a tough opponent and defeated Vinesh Phogat in the second round.
As Mayu Mukaida reached the final gold medal bout, Vinesh got to play in the repechage round for bronze medal.
In the repechage round, Vinesh first defeated former World Championships bronze medallist Yuliya Khalvadzhy of Ukraine 5-0 and then World silver medalist Sarah Hildebrandt 8-2 in the second bout of the repechage round.
Both the wins in the repechage round provided her with an entry into bronze medal play-off bout. In the bronze medal play-off, she faced Greece's two-time World Championships bronze medallist Maria Prevolaraki.
Topics: Geeta Phogat • Indian people • Mahavir Singh Phogat • Phogat sisters • Sofia Mattsson • Sport in India • Vinesh Phogat • Wrestlers
Latest E-Books