Vampire star caught in the act by ASTROSAT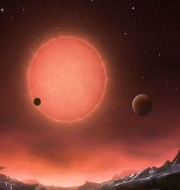 India's first dedicated space observatory, ASTROSAT has captured the rare phenomenon of a small six-billion-year-old vampire star preying on a bigger celestial body.
The vampire star phenomenon is observed when smaller star sucks material (mass and energy) out of the bigger companion star, causing its eventual death.
It is also called a blue straggler as small star becomes bigger, hotter and bluer, giving it the appearance of being young, while the ageing companion burns out and collapses to a stellar remnant.
About ASTROSAT
Astrosat is India's first dedicated multi-wavelength space observatory launched in September 2015. It is one of the major scientific missions of ISRO after the highly acclaimed Chandrayaan-I and Mangalyaan.
It is placed at low earth equatorial orbit at altitude of 650 km. It has ability to observe celestial bodies like cosmic X-Ray sources and distant stars in different wavelengths simultaneously.
It can observe the universe through ultraviolet, optical, low and high energy X-ray components of the electromagnetic spectrum. It has mission life of 5 years.
Its successful launch made India member of select elite group of nations comprising US, Japan, Russia and Europe having its own space observatory.
Month: Current Affairs - January, 2017
Topics: Astronomy • Astrosat • Blue Straggler • Science and Technology • Space technology • Vampire star
Latest E-Books