US, China Trade War likely to end in First Week of 2020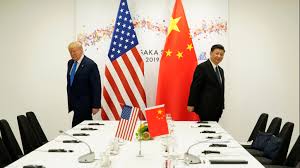 The American economist, Peter Navarro who is currently serving as the trade adviser to the US President has suggested on Monday, 30th December 2019 that a trade deal is likely to be signed between the US and China during the upcoming week. Earlier this month the White House has signaled that a trade deal with China to be completed in upcoming weeks following which a report emerged in the media last Saturday, 28th December 2019 that there has been an official invitation from the White House to the Chinese vice-premier, Liu He to visit the US capital for the completion of the final aspects related to the trade deal.
The trade dispute between the global economic leaders saw its weigh on the entire world economy as both sides imposed heavy tariffs on each other's exports. Through the dispute period, under the US President Donald Trump's policy of 'America First', the US has imposed tariffs on USD 360 billion worth of goods manufactured in China following which Beijing hit back with tariffs of more than USD 110 billion across various US products.
The deal should be considered as the phase one, as according to media reports under the deal the US won't implement 15% tariffs across Chinese products worth USD 160 billion and would also cut half the present tariff of 15 % rate to 7.5 % on USD 120 billion worth products from China. China would also follow the same buy canceling the retaliatory tariffs that were imposed across US products.
China has also agreed to reduce the present US trade deficit of USD 419 billion by agreeing to purchase US manufactured goods over the next two years worth USD 200 billion.
Topics: Beijing • China • Donald Trump • President • US-China Trade War • White House
Latest E-Books