Current Affairs- Today's Headlines: September 9, 2021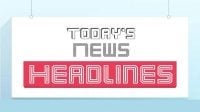 Here are Today's News Headlines by GK Today for September 9, 2021
INDIA
– Don't want press freedom muzzled says Supreme Court; grants interim protection to journalists of a news website from any coercive action by UP Govt.
– Supreme Court Collegium recommends names of 12 additional judges for appoint as permanent High Court judges
– Armed forces will admit women in NDA, govt tells SC in historic step
– NSA Ajit Doval and his Russian counterpart Gen Nikolay Patrushev hold talks in New Delhi
– India, ADB sign $112 million loan to improve urban water supply infrastructure in Jharkhand
– India, ADB sign $300 million loan to expand rural connectivity in Maharashtra
– Tamil Nadu, Denmark plan
energy island
producing 4-10 Gw in Gulf of Mannar
– Assam: Boat sinks in Brahmaputra river after colliding with ferry on Majuli-Nimati Ghat route; several feared dead
– Uttarakhand Governor Baby Rani Maurya resigns
– Cabinet approves pact between Russia, India for cooperation in field of geosciences
ECONOMY & CORPORATE
– Cabinet approves increase in MSP for all mandated Rabi crops for 2022-23
– Gujarat AAR rules parathas are not ready-to-eat, puts them under 18% GST
– Center approves ₹10,683 crore production-linked incentive (PLI) scheme for textile sector with an aim to boost domestic manufacturing and exports
– CCS clears procurement of 56 transport aircraft from Airbus for IAF
– Railways must pay compensation to passengers if trains run late, rules Supreme Court
– RBI takes UCO Bank out of PCA (Prompt Corrective Action) framework over improved finances
– Arun Kumar Singh appointed new Chairman and MD of BPCL
UNESCO LITERACY PRIZES
– The UNESCO King Sejong Literacy Prize was awarded to:
– Limitless Horizons Ixil in Guatemala for its 'Broadcasting Bilingual Stories: Promoting Interactive Literacy Programming in Rural Guatemala' programme.
– National Institute of Open Schooling in India for its 'Enabling education of persons with disabilities through technology enabled inclusive learning material, with specific focus on Indian sign language-based content' programme.
– Puku Children's Literature Foundation in South Africa for its 'Using digital technologies to promote children's literature in South Africa's indigenous languages' programme.
The UNESCO Confucius Prize for Literacy was awarded to:
– ONG GA-TIC Côte d'Ivoire in Côte d'Ivoire for its 'Functional literacy for traders in Abidjan through the use of ICT' programme.
– Ain-Shams University in Egypt for its 'Ain Shams University experience in organizing online literacy classes for rural areas in Egypt' programme.
– Construyendo y Creciendo in Mexico for its 'Building & Growing' programme.
WORLD
– Russia's Emergency Situations minister Yevgeny Zinichev (55) dies during drills in Arctic zone
– Australia: Supreme Court says media liable for Facebook comments on posts
– Mexico: Supreme Court decriminalises abortion in the majority Roman Catholic nation
– International Literacy Day 2021 celebrated on September 8; theme: "Literacy for a human-centered recovery: Narrowing the digital divide"
Month: Current Affairs - September, 2021
Category: Today's News Headlines
Topics: Current Affairs Headlines • Current Affairs: News Headlines • Headlines • Latest News Headlines • News Headlines • Top Headlines
Latest E-Books