Union Cabinet approves Motor Vehicle (Amendment) Bill, 2016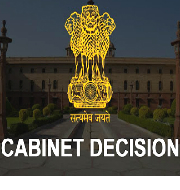 The Union Cabinet has approved the Motor Vehicle (Amendment) Bill, 2016 to improve road safety scenario in the country.
The bill seeks to amend Motor Vehicles Act (MVA), 1988 and proposes to hefty penalties against violations of road safety rules as a deterrent measure.
Key Features of the Bill
Changes in Parent law: It amends existing 68 sections of MVA, 1988 which has total 223 sections. It proposes addition of 28 new sections.
It deletes Chapters 10 and replaces Chapter 11 provisions with new set of provisions to simplify third party insurance claims and settlement process.
Compensation: Increases compensation for Hit & Run cases to Rs. 2 lakh from Rs.25000. Adds provision for payment of compensation in road accidents fatalities upto Rs. 10 lakh.
Role of states: It permits states to grant exemptions in Stage carriage and contract carriage permits for promoting rural transport, last mile connectivity, public transport and for road safety and passenger convenience.
Permits state Government to specify a multiplier to be applied to each fine under this Act and such modified fine. The multiplier must be not less than one and not greater than ten,
Allows State Government to regulate the activities in a public place of pedestrians and such means of transport.
e-Governance: It focuses on improving delivery of services to the stakeholders using e-Governance. It enables (i) online learning licenses, (ii) increases period of driving licenses validity, (iii) Do away with the requirements of educational qualifications for transport licenses etc.
Vahan & Sarathi platforms: Proposes to create National Register for Vehicle registration and National Register for Driving Licence through "Sarathi" and "Vahan" platforms.
This will facilitate uniformity of the process across the country and bring harmony of the registration and licensing process.
Offences committed Juveniles: The owner or guardian will be deemed guilty in cases of offences by the Juveniles. Juvenile will be tried under JJ Act and the registration of Motor Vehicle will be cancelled.
Other Provisions: (ii) Registration at the end of the dealer will be enabled and restrictions will be imposed on temporary registration. (ii) Proposes increased penalties against traffic violations as deterrent for road safety (iii) Proposes stricter provisions in respect of offences like drunken driving, driving without licence, juvenile driving, over-speeding, overloading etc. (iv) Proposes stricter provisions for helmets along with provisions for electronic detection of violations. (v) Good Samaritan guidelines have been incorporated to help the road accident victims. (vi) Proposes an automated fitness testing for the transport vehicles with effect from 1st October 2018. Its mandate is to reduce corruption in the Transport Department while improving the road worthiness of the vehicle.  (vii) Proposes penalties for deliberate violation of safety and environmental regulations as well as spare part suppliers and body builders.
Comment
The proposed amendments to MVA, 1988 mainly focuses on issues relating to improving road safety, citizens' facilitation while dealing with the Transport Department.
It also focuses on strengthening rural transport, public transport, last mile connectivity automation and computerization (e-Governace) and enabling online services.
Background
In India every year 5 lakh road accidents are reported in which 1.5 lakh people lose their lives.
To address the issue of road safety, the Union Government had proposed a draft Road Transport & Safety Bill earlier. However, most of the States had expressed reservations.
To address the reservations of states the Union Ministry of Road Transport & Highways constituted a Group of Transport Ministers (GoM) of the States.
The GoM was headed by Yoonus Khan, Transport Minister of Rajasthan held three meetings in which total of 18 Transport Ministers from different states had participated.
The GoM had recommended that Union Government should immediately bring amendments to the present Motor Vehicle Act, 1988 to address the issue of road safety and improving transport scenario.
Month: Current Affairs - August, 2016
Topics: Bills and Acts • Cabinet Decisions • National • Road safety
Latest E-Books