Union Cabinet approves inclusion of 15 new castes in Central OBC list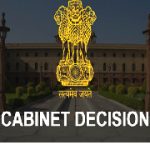 The Union Cabinet has given its approval for inclusion of 15 new castes and modification in 13 other castes in the Central list of Other Backward Classes (OBCs) in respect of 8 states.
These states are Assam, Bihar, Himachal Pradesh, Jharkhand, Maharashtra, Madhya Pradesh, Jammu & Kashmir and Uttarakhand.
The Union Cabinet took this decision based on the recommendation of the National Commission for Backward Classes (NCBC).
Key Facts
The NCBC had recommended a total of 28 changes in the existing list of OBCs in respect of 8 states.
Out of these 28 changes, 15 were new entries, 9 were synonyms or sub-castes of castes which were already in the list and 4 were corrections.
The changes will enable the persons belonging to these communities/castes to avail the benefits of reservation in Government posts and services.
It will also help them to get benefits in Central Educational Institutions as per the existing policy.
They will also become eligible to avail benefits under the various welfare schemes, scholarships etc. administered by Union Government, which are available to persons belonging to OBCs.
About National Commission for Backward Classes (NCBC)
The NCBC was set up as per the NCBC Act, 1993 in pursuance to the Supreme Court judgement in the Indra Sawhney case (1992).
Composition
It consist of five Members, comprising of a Chairperson; social scientist; two persons having special knowledge in matters relating to backward classes and Member-Secretary. Chairperson must be or has been a judge of Supreme Court or High Court.
Functions
It examines requests for inclusion of any class of citizens as a backward class in the lists of OBCs. It also hears complaints of under-inclusion or over-inclusion of any backward class in such lists and tenders such advice to the Union Government as it deems appropriate. The advice of the NCBC is ordinarily binding upon the Union Government.
So far based on recommendation of NCBC, Government has notified total of 2479 entries including its synonyms, sub-castes, etc. in Central List of OBCs in 25 States and 6 UTs.
Month: Current Affairs - December, 2016
Topics: Cabinet Decisions • National • NCBC • OBCs • Reservation • Welfare Schemes
Latest E-Books