Ukraine: Yulia Tymoshenko sentenced to 7 years Jail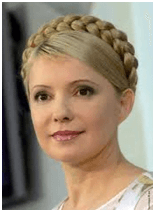 Former Prime Minister of Ukraine, Yulia Tymoshenko, 50, was recently was sentenced to seven years in prison for abuse of office. Some vital facts:
Born in November 1960, Tymoshenko shot to fame when she helped lead the "Orange Revolution" street protests in Kiev in 2004-05 that doomed President Viktor Yanukovich's first bid for power.

Her peasant-style hairbraid has become her political trademark. She is known for fiery speeches in which she portrays herself as Ukraine's savoir from corruption and criminality.

Her early involvement in the gas industry in the 1990s, after Ukraine had gained its independence with the break-up of the Soviet Union, earned her the nickname "gas princess."

She entered parliament in 1996 and was made a deputy prime minister in charge of the energy sector in 2000 by the new premier, Viktor Yushchenko.

Since losing to Yanukovich in her bid for the presidency, she has been out of parliament.

Why in Jail? It was alleged that she abused her power by railroading the state energy firm, Naftogaz, into signing a gas import agreement with Russia in 2009. The Yanukovich leadership says this saddled Ukraine with an exorbitant price for supplies of Russian gas. She was sentenced to seven years, in a lengthy judgment at the end of a three-month trial that has polarized society in the former Soviet republic.
Month: Current Affairs - December, 2011
Topics: Corruption in Ukraine • Criminal cases against supporters of Yulia Tymoshenko • Criminal cases against Yulia Tymoshenko since • Politicians • Presidents of Ukraine • Prime Minister of Ukraine • Viktor Yanukovych • Viktor Yushchenko • Yulia Tymoshenko
Latest E-Books