Tyrannomyrmex alii: New ant species discovered in the Western Ghats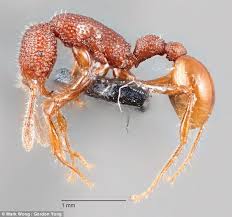 Researchers have discovered new species of ant in the Periyar Tiger Reserve, Kerala in Western Ghats, as one of the world's 'hottest hotspots' of biological diversity. It has been named Tyrannomyrmex alii (or T. alii), after eminent myrmecologist Musthak Ali, who is regarded as the India's 'ant man'.
Key Facts
Tyrannomyrmex alii belongs to Tyrannomyrmex, a rare tropical genus of ants. It was discovered from Vallakadavu range of Western Ghats. It can be distinguished from other species of same genus through its morphological characteristics. It has petiolar shape.
Tyrannomyrmex is a rare myrmicine (subfamily of ants) ant genus that is distributed in Indomalayan bio-region that extends from southern India and Sri Lanka to southeast Asia. T. alli has is fourth species of the rare genus Tyrannomyrmex and the second one from India. The first species of genus was Tyrannomyrmex rex Fernández, was discovered in 2003 in Pasoh Forest Reserve, Malaysia. Later two more species Tyrannomyrmex dux (or T. dux) from the Ponmudi hills in 2007 and T. legatus from Sinharaja Forest Reserve in Sri Lanka in 2013 were discovered.  Both of Tyrannomyrmex species that described from India are known from Western Ghats range in Kerala.
Month: Current Affairs - November, 2017
Topics: Ants • Environment • Kerala • Periyar Tiger Reserve • Science and Technology • Tyrannomyrmex alii • Western Ghats • Wildlife
Latest E-Books