Triple talaq unconstitutional, violates rights of Muslim women: Allahabad high court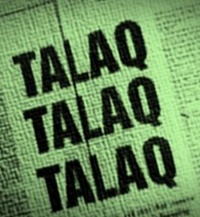 The Allahabad High Court has ruled that the practice of triple talaq (Talaq-e-bidat) among Muslims is unconstitutional and violates the rights of women enshrined in constitution.
The order was passed by HC Justice Suneet Kumar while hearing a petition filed by a woman who claimed her husband arbitrarily divorced her.
Besides, the High Court also held that No Personal Law Board is above the Constitution i.e. it was indirectly referring to All India Muslim Personal Law Board (AIMPLB).
What is the issue?
Talaq-e-bidat is Muslim man divorcing his wife unilaterally by pronouncing the word 'talaq' thrice in one go.
Thus, it is oral talaq pronounced for irrevocable instantaneous divorce at one go. Many activists say that this practice is not of Islamic origin.
AIMPLB, a non-government organisation always has held that Talaq-e-bidat is integral part of Muslims and courts have no role to play in Personal Law as it falls under the Fundamental Right to practice religion.
Supreme Court is also hearing a petition challenging the validity of triple talaq, as several individuals and NGOs have sought a ban on its practice.
Even, the National Commission of Women (NCW) considers it "highly misused" custom and asked Government to scrap it to protect the rights of Muslim women.
Why triple talaq should be abolished?
The practice of 'triple talaq' has enabled husbands to divorce their wives arbitrarily and unilaterally, devoid of any substantiation. It impact adversely on the rights of women to a life of dignity. It also has been abolished in 21 Islamic theocratic countries including Pakistan. It is also against constitutional principles such as gender equality, secularism, international laws etc. Thus, it must be kept in mind that gender equality is a sacred principle of our constitution and modern society. So it is right time to make necessary changes.
What is Government's position?
Recently Central Government in its affidavit submitted to Supreme Court held that the practice of Triple talaq is against the principles of gender equality, gender justice and dignity enshrined in the Constitution. It is not integral to the right to freedom of religion. It violates right to equality, non-discrimination on the grounds of sex and the right to live with dignity to women in par with men guaranteed in the Constitution.
Month: Current Affairs - December, 2016
Topics: Allahabad High Court • judiciary • National • religion • Triple Talaq • Triple talaq unconstitutional
Latest E-Books