Top GKToday's News Headlines- 3 December 2019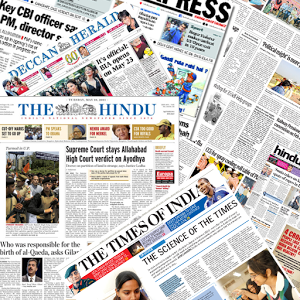 Here are the top News Headlines of 3 December 2019 for all competitive examinations of India.
National Current Affairs
King Carl XVI Gustaf and Queen Silvia of Sweden begin their five-day India visit
EAM S. Jaishankar holds talks with his Swedish counterpart Ann Linde in New Delhi
Nationwide vaccination drive launched to prevent eight diseases under Intensified Mission Indradhanush (IMI) 2.0
IMI 2.0 covers diphtheria, whooping cough, tetanus, poliomyelitis, tuberculosis, measles, meningitis and Hepatitis B
India Rankings Society (IRS) set up to develop system of ranking higher educational institutions in the country: HRD Ministry
'The Vault of Vishnu', by author Ashwin Sanghi, to release in January 2020
'Early Indians: The Story of Our Ancestors and Where We Came From' by Tony Joseph, wins Shakti Bhatt First Book Prize
Prohibition of Electronic Cigarettes Bill, 2019 passed by Parliament
Lt Gen P. S. Rajeshwar takes over as C-n-C of Andaman & Nicobar Command
Sub-lieutenant Shivangi becomes 1st woman of Indian Navy; to fly Dornier surveillance aircraft
BSF's yearly magazine 'Borderman' released by Minister of State for Home Affairs Nityanand Rai
TAXATION BILL
The Lok Sabha on December 2, 2019 passed a Bill to replace an Ordinance promulgated in September for effecting reduction of corporate tax rates.
Taxation Laws (Amendment) Bill, 2019, will amend the Income Tax Act 1961 and the Finance (No 2) Act 2019.
Base corporate tax for existing companies has been reduced to 22% from 30%, and to 15% from 25% for new manufacturing firms incorporated after October 1, 2019, and starting operations before March 31, 2023.
Economy & Business Current Affairs
Rating agency CRISIL cuts GDP growth forecast for 2019-20 to 5.1% from an earlier estimate of 6.3%
Govt launches independent directors' databank, to be maintained by Indian Institute for Corporate Affairs (IICA)
Walmart, HDFC unveil co-branded credit card for 'Best Price' members
International Current Affairs
Saudi Arabia assumes the G20 presidency under the theme of 'Realising Opportunities of the 21st Century for All'
G20 leaders' summit will be held in Riyadh on November 21-22, 2020
UN Climate Change Conference being held in Madrid, Spain from December 2 to 13
International Day for the Abolition of Slavery observed on December 2
Israel's occupation has cost the Palestinian economy more than USD 2.5 billion a year for the past two decades: UNCTAD
3000-km long pipeline launched to transport natural gas from Siberia in Russia to northeast China
Astronauts attach new pumps to cosmic ray detector outside International Space Station to prolong its life
com chooses 'existential' as word of the year
Pritivirajsing Roopun appointed as new President of Mauritius by parliament
Iraq's Parliament approves resignation of Prime Minister Adel Abdul Mahdi
'Will & Grace' actor Shelley Morrison dies at 83 in US
Sports Current Affairs
Mercedes driver Lewis Hamilton wins season ending Formula One Abu Dhabi Grand Prix
Karnataka beat Tamil Nadu by 1 run in final to win Syed Mushtaq Ali Trophy cricket tournament in Surat
Category: Today's News Headlines
Latest E-Books