Top GKToday's News Headlines – 12 OCTOBER 2019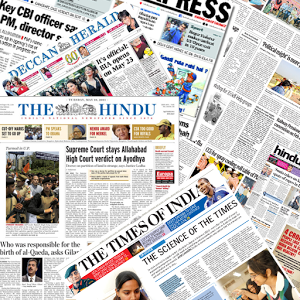 Here are the top News Headlines of 12 October 2019 for all competitive examinations of India.
National Current Affairs
PM Modi and Chinese President Xi Jinping meet at Mamallapuram in Tamil Nadu for their second informal summit
Environmentalist Chandi Prasad Bhatt awarded Indira Gandhi award for national integration for the years 2017 and 2018
West Bengal govt. to set up a Kanyashree University in Nadia district to empower girls
Bru refugee families start returning to Mizoram from Tripura
Navies of India, Bangladesh organising Coordinated Patrol (CORPAT) at Visakhapatnam from October 12 to 16
Eminent saxophone exponent Kadri Gopalnath dies at 69 in Mangaluru
KAYAKALP AWARDS
Health Minister gives Kayakalp Awards to government hospitals for cleanliness
AIIMS Delhi wins Rs. 3 crore first prize among 'A' Group hospitals in 'Kayakalp Awards Scheme of Health & Family Welfare Ministry for cleanliness
In 'B' group hospitals, Vinoba Bhave Civil Hospital (VBCH), Silvassa, received Rs 2 crore first prize
Economy & Business Current Affairs
BSE Sensex: 38,127.08 (+246.68), NSE Nifty: 11,305.05 (+70.50)
Industrial production declines 1.1% in August 2019, lowest growth in seven years
allows import of urea for industrial or non-agricultural use without any restrictions
97,689 individuals had taxable income of over Rs 1 crore during assessment year (AY) 2018-19: CBDT
Forbes India rich list 2019: Mukesh Ambani of Reliance Industries Ltd (RIL) retains top spot
EY launches mobile platform to provide STEM (science, technology, engineering and mathematics) learning experience to girls in Delhi-NCR
Brides from economically backward sections in MP to get Rs. 51,000 from govt. under 'Mukhya Mantri Kanya Vivah/Nikah Yojna' on proving before marriage that the groom's family has toilet.
PII-ICRC ANNUAL AWARDS
Awards given jointly by the Press Institute of India (PII) and the International Committee of the Red Cross (ICRC)
Awards given for best article and best photograph on the theme 'Impact of Climate Change on Humanitarian Issues'
In the article category, independent journalist Urvashi Sarkar, won the first prize for her article, 'Our houses are vanishing. Nobody cares', that appeared on the PARI (People's Archive of Rural India) website.
In the photography category, first prize was shared by G. Sivaprasad, news photographer, Mathrubhumi, for his picture, 'Close to the heart', and Rijo Joseph, chief photographer, Malayala Manorama, for his photo, 'Running for life'.
International Current Affairs
Ethiopian PM Abiy Ahmed wins Nobel Peace Prize for resolving conflict with neighbouring foe Eritrea
'How to Avoid a Climate Disaster' announced as title of the new book by Microsoft Founder Bill Gates
France's Pacific island territory of New Caledonia to hold a second referendum on independence in 2020
NASA launches Icon (Ionospheric Connection Explorer) satellite to explore the region where air meets space
Russia honours NASA astronaut Nick Hague with 'Order of Courage'
India joins WEF's G20 Global Smart Cities Alliance on Technology Governance
Comoros: Vice President M Venkaiah Naidu given 'The Order of the Green Crescent', the country's highest civilian honour in capital Moroni
Alexei Leonov, a Soviet-era cosmonaut who was the first man to conduct a spacewalk in 1965, dies at 85
Sports Current Affairs
Legendary athlete Milkha Singh (92) wins lifetime achievement at Indian Sports Honours (ISH)
Dutee Chand breaks her own women's 100 m national record clocking 11.22 seconds in National Open Athletics Championships at Ranchi.
Virat Kohli (254) hits seventh double hundred in tests, the highest number by an Indian
Category: UPSC Prelims Test Series
Category: Today's News Headlines
Latest E-Books