TN unveils New Electric Vehicle Policy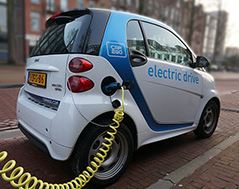 The Chief Minister of Tamil Nadu Edappadi K Palaniswami has unveiled the State's electric-vehicle policy.
Features of the Policy
The policy sets out a vision to attract ₹50,000 crore in investments and create 1.5 lakh new jobs.
The aims to create a comprehensive EV ecosystem in the State of Tamil Nadu and provide for a strategy to make Tamil Nadu the preferred destination for EVs and component manufacturing units, including battery and charging infrastructure.
The policy announces various sops which include 100 per cent road tax exemption for all types of EVs, capital subsidies, reimbursement of State GST, subsidy on land cost and special incentives for job-creating EV projects.
The policy provides for a major cost-saving measure as part of the on-road price package which includes insurance, 100 per cent road tax exemption and there will be waivers on registration fees under the Central government's policy.
The policy provides for a plethora of support measures for makers of EVs, parts and charging infrastructure equipment makers.
The new policy is expected to give a much-needed push to EV adoption and aid the State to emerge as a strong force in EV manufacturing given its strengths in manufacturing and skill availability.
Topics: Charging station • Edappadi • Edappadi K. Palaniswami • Electric vehicles • Electric vehicles in Hong Kong • Government of India • India • Subdivisions of India • Tamil Nadu
Latest E-Books