The World Investment Report 2020
Published: June 16, 2020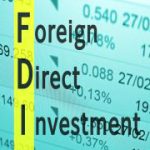 In the post-pandemic period, a lower but positive economic growth will be seen in India, and India's large market will continue to attract market-seeking investments. this according to The World Investment Report 2020 by UN Conference on Trade and Development (UNCTAD).
The Global FDI flows may decrease by up to 40 percent in 2020, from their 2019 value of USD 1.54 trillion.
For the first time since 2005, this might happen that global FDI falls below USD 1 trillion.
India is among the top five host economies for FDI amongst the developing Asian region.
According to this report In India, the number of greenfield investment announcements declined by four percent in the first quarter, and Merger & Acquisitions declined by 58 percent.
Indian economy could prove to be the most resilient in the Asian region and India's large market will continue to attract market-seeking investments to India.
One of the important downside risks for FDI in the medium term for India is the logistical challenges during both the lockdown and the recovery.
The two industries digital economy and real estate and property development,  that attracted growing FDI before the pandemic, could see changes, the report says that the digital economy is likely to see continued investments, but the real estate and property development will face challenges because of slowing demand and financing constraints.
India'important industries like professional services and the digital economy can see a faster comeback as global venture capital firms and technology companies are showing interest in India's market through acquisitions.
The global FDI flows will be under the pressure because of the COVID-19 pandemic, dropping well below the trough reached during the global financial crisis and the already slow growth in international investment since the past decade.
Month: Current Affairs - June, 2020
Category: Economy & Banking Current Affairs
Topics: FDI • India • World Investment Report 2020
Advertisement