Stealth Guided missile destroyer INS Chennai commissioned into Indian Navy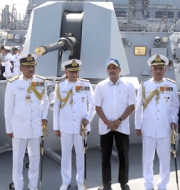 INS Chennai, a Kolkata-class stealth Guided missile destroyer ship was commissioned into Indian Navy's combat fleet by Defence minister Manohar Parrikar in Mumbai, Maharashtra.
It is the largest-ever destroyer to be built in India. It is third and last Kolkata-class guided missile destroyers built under Project 15A. Thus, its induction also marks the end of the Project 15A.
Key features
INS Chennai has been named after the iconic port city of Chennai. It is 164 metres long with a displacement of over 7,500 tonnes.
It has been built at the Mazagon Dock Shipbuilders Ltd in Mumbai under the strategic Project 15A.
It can sail at a top speed of over 30 knots (around 55 kms) per hour and is propelled by four powerful Gas Turbines, in a Combined Gas and Gas (COGAG) configuration.
The ship has enhanced stealth features resulting in a reduced Radar Cross Section (RCS) and uses radar transparent materials on exposed decks.
It is armed with Barak-8 Long Rang Surface-to-Air missiles and supersonic surface-to-surface BrahMos missiles.
INS Chennai is fitted with 'Kavach' chaff decoy system for defence against enemy missiles and 'Mareech' torpedo decoy system for protection from enemy torpedoes.
Its undersea warfare capability includes indigenously developed anti-submarine weapons and sensors, hull-mounted sonar HUMSA-NG, towed array sonar capability, heavyweight torpedo tube launchers and rocket launchers.
The ship is truly classified as a 'Network of Networks' as it is equipped with sophisticated digital networks, such as ATM based Integrated Ship Data Network (AISDN), Automatic Power Management System (APMS), Auxiliary Control System (ACS) and Combat Management System (CMS).
It will be placed under the operational and administrative control of the Western Naval Command based in Mumbai. It has a complement of about 45 officers and 395 personnel.
About Project 15A
Under this project Kolkata class of stealth guided missile destroyers have been built for Indian Navy.
The class comprises of three ships and are the largest destroyers to be operated by the Indian Navy.
The first ship of this class named INS Kolkata was commissioned in August 2014 followed by INS Kochi commissioned in September 2015.
These destroyers are follow-on of the legendary Project 15 'Delhi' class destroyers which had entered service in the late 1990s.
Month: Current Affairs - November, 2016
Topics: Barak 8 • BrahMos missile • Defence • Indian Navy • INS Chennai • Project 15A
Latest E-Books