Special committee for inter-linking of rivers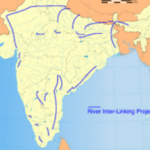 To comply with the Supreme Court's 2012 order, the Union Cabinet has approved the constitution of a 'special committee for inter-linking of rivers'.  In February 2012, the Supreme Court gave a green signal for interlinking of rivers. As per the Court's order, the formation of such a committee is necessary to take firm steps to fix a timeline for completion of feasibility reports and to ensure completion of projects on time, so that the benefits accrued from the projects are reaped within reasonable time and cost.
Key facts
The committee will have representations from various departments of the government apart from civil society organizations.
The committee has to meet at least once in two months.
The committee is required to submit a bi-annual report to the Union Cabinet regarding the status and progress of the project.
The union Cabinet is expected to act on the matters placed before its consideration by the committee within 30 days.
Significance
The committee will help in monitoring projects carried out under National Perspective Plan, 1980.
The special committee's bi-annual status-cum-progress report will enable the Union Cabinet to take faster and informed decisions in the interest of the country.
National Perspective Plan, 1980
In 1980, the Ministry of Water Resources formulated a National Perspective Plan for the development of water resources by transferring water from water surplus basins to water deficit basins through inter-linking of rivers.
Interlinking of rivers
Interlinking of rivers is a proposed large-scale engineering project to link rivers by a network of reservoirs, dams, and canals. The objective of the project is to reduce the disparities in different river basins by transferring surplus water to water deficit regions of the country.  The project has been split into three components:
Himalayan rivers inter-link component
Peninsular component
Intra-state rivers linking component.
National Water Development Agency (NWDA)
The Inter-link project is being managed by India's National Water Development Agency (NWDA). NWDA was set up as a Society under the Societies Registration Act, 1860 in 1982 to carry out the water balance and feasibility studies of the river linking program.
Topics: Environmental engineering • Indian Rivers Inter-link • Interbasin transfer • River linking • Water
Advertisement