US Senate appoints Dr. Vivek Murthy as Surgeon General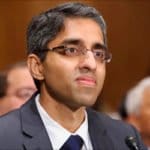 The U.S. Senate has appointed Indian-American physician Dr. Vivek Murthy as U.S. Surgeon General. US Senate voted in favour of him by 51 votes to 43, after more than a year he was nominated by US President Barack Obama.
Dr.Murthy is the youngest person and first person of Indian-origin to hold this post. It should be noted that U.S. surgeon general does not set any government policy but is an advocate for the people's health.
For this post, Murthy was endorsed by over 100 health organisations, including the American College of Physicians, the American Heart Association and the American Diabetes Association. This post was vacant since 2013 and Boris Lushniak was the acting Surgeon General of US since then.
About Dr. Vivek Murthy
He was born to parents who are originally from Karnataka. He came to the US when he was three years old and grew up in Miami, Florida.
Education: He had received a BA from Harvard University, an MBA from Yale School of Management, and an MD from Yale School of Medicine.
Career
Before his appointment as US Surgeon General, Dr Murthy was physician at Brigham and Women's Hospital in Boston and a Hospitalist Attending Physician and Instructor in Medicine at Harvard Medical School.
He co-founded VISIONS Worldwide in 1995, a non-profit organisation focused on HIV/AIDS education in India and the United States, where he served as president from 1995 to 2000 and Chairman of the Board from 2000 to 2003.
He is Co-Founder and Chairman of the Board of TrialNetworks, formerly known as Epernicus, since 2007.
He is founder and president of Doctors for America, a group of 15,000 physicians and medical students supporting comprehensive health reform since 2009.
In 2011, President Barack Obama had appointed him on the U.S. Presidential Advisory Council on Prevention, Health Promotion, and Integrative and Public Health within the U.S. Department of Health and Human Services.
Month: Current Affairs - December, 2014
Topics: US
Latest E-Books