Seismic Survey for Oil and Gas Exploration launched in Mahanadi basin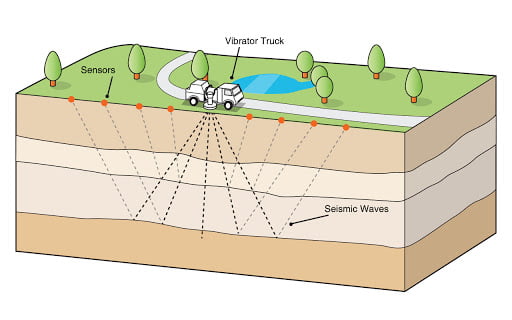 The Ministry of Petroleum and Natural Gas and Steel has launched Seismic Survey campaign of Oil India Limited in the Mahanadi basin of Odisha. According to the ministry, the oil and gas exploration will be a game changer in the socio-economic development of Odisha. The estimated cost of the seismic survey is Rs 220 crores.
About the Seismic Survey Campaign
The estimated cost of the exploration campaign in the region is Rs 1,248 crores. Of this, the seismic survey will require Rs 220 crores. Mahanadi basin was chosen as the first location to roll out the National Seismic Programme.
National Seismic Programme
The National Seismic Programme was launched in 2016 to trace hydrocarbon resources such as oil and natural gas. The programme aims to undertake fresh appraisal of sedimentary basin in the country. The National Seismic Programme will conduct high resolution seismic acquisition, processing and interpretation survey.
What is Seismic Survey?
Seismic survey is a low impact method that gathers information about the location and characteristics of geological structures. During the survey, acoustic sound signals are transmitted to the earth surface. Different geographical layers reflect the sound differently. Based on the returning sound waves received and recorded by microphones, availability of oil and gas is determined.
Mahanadi basin
Mahanadi is the eighth largest basin in the country. Mahanadi river flows through Madhya Pradesh, Chhattisgarh and Odisha. Hirakud dam has been constructed across river Mahanadi. Around fourteen districts in the basin are covered under Drought Prone Area Programme.
Drought Prone Area Programme
It was launched in 1973-74. The Drought Prone Area programme tackles special problems faced by the fragile areas that are constantly affected by droughts. The areas under the programme are identified based on the human and cattle population it holds. The human and cattle population are continuously putting pressure in these areas that are already fragile. These areas face continuous depletion of vegetative cover, fall in ground water level, increase in soil erosion.
Month: Current Affairs - November, 2020
Category: Economy & Banking Current Affairs
Topics: Hirakud Dam • Mahanadi • National Seismic Programme • oil and gas exploration • Oil India Ltd • seismic survey
Latest E-Books