SC stays Rajasthan HC's decision declaring 'Santhara' ritual illegal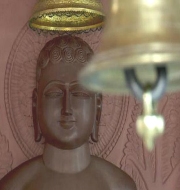 The Supreme Court (SC) of India has stayed Rajasthan High Court's order declaring Santhara, a Jain ritual of voluntary and systematic fasting to death illegal.
The stay order was given by SC Bench comprising Chief Justice of India H.L. Dattu and Justice Amitava Roy.
What is Santhara?
Santhara is a religious custom of Jain religion that embraces voluntary death in order to purge oneself of bad 'karma' and attain 'moksha'. The practitioners of this custom take an oath to stop eating until they die of starvation. This oath is taken in consultation with a guru and follows the most detailed of procedures.
Background
Earlier in August 2015, Rajasthan High Court had banned the practice of Santhara by declaring it as a criminal offence and mentioning it as illegal in the eyes of law.
The High Court in its ruling had made this religious practice a punishable offence under section 306 (abetment of suicide) and Section 309 (attempt to commit suicide) of the Indian Penal Code (IPC).
Constitutional Validity
Article 25: The Rajasthan High Court in its ruling had mentioned that as per Article 25, religious liberty and freedom is only limited to the scope of essential religious practices of particular religion. So practice of Santhara is not essential religious practice of Jainism.
Article 21: The Rajasthan High Court also mentioned that Protection of life and personal liberty does not include Right to die. So it is illegal from this point of view.
The ruling of High Court was based on public interest litigation (PIL) filed by advocate and human rights activist Nikhil Soni to ban this centuries old Jain ritual claiming it as social evil and should be considered as suicide.
Jain Community's Viewpoint
Jain community clearly mentioned that the practice of Santhara is an integral part of Jainism and has been mentioned in religious texts. It is also an intrinsic practice to a person's ethical choice to live with dignity until death and not an exercise in trying to achieve an unnatural death.
Month: Current Affairs - September, 2015
Category: Art & Culture Current Affairs
Topics: Art and Culture • Jainism • Supreme court
Latest E-Books