SC scraps use of option in Rajya Sabha elections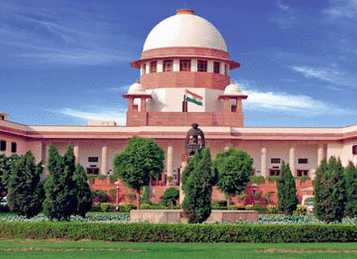 Supreme Court scrapped use of NOTA (none of the above) option for Rajya Sabha elections, saying it defeats fairness in indirect elections, destroys democratic values and serves as Satan of defection and corruption. The ruling was given by three judges bench of SC comprising of Chief Justice of India Dipak Misra, Justices A M Khanwilkar and D Y Chandrachud. It came on petition by Shailesh Parmar, who was Congress chief whip in Gujarat, challenging EC decision to allow NOTA in Rajya Sabha polls.
SC Prnouncement
It quashed June 2014 notification of Election Commission that allowed use of NOTA option in Rajya Sabha elections. It held that NOTA will destroy concept of value of vote and representation, and encourage defection that shall open doors for corruption which is malignant disorder.
It said that introduction of NOTA in indirect elections may on first glance, tempt intellect but on keen scrutiny, as it falls to ground and completely ignores role of elector in such election and fully destroys democratic value. NOTA practical application defeats fairness ingrained in indirect election.
It held that choice of NOTA will have negative impact in voting process of Rajya Sabha where open ballot is permissible and secrecy of voting has no room and discipline of political parties matters. Though elector, in Rajya Sabha has single vote and has quantified value of his vote and transferable surplus votes. But there is existence of formula for determining value of vote which has different connotation.
Background
NOTA was introduced in Lok Sabha polls (direct election) by Election Commission of India (ECI) following 2013 Supreme Court decision. It was extended to Rajya Sabha election (i.e. indirect elections) via notification in January 2014. Thereafter, biennial elections to 76 Rajya Sabha seats across 21 states in 2014, 8 seats across three states in 2015, 70 seats across 21 states in 2016, 10 seats across three states in 2017, and 58 seats across 16 states in 2018 have been held. NOTA option was provided on ballot paper after name of the last candidate in each of these biennial elections held since 2014. Election Commission in apex court had justified its decision of introducing NOTA in Rajya Sabha elections, mentioning that it did not make any distinction between direct and indirect elections.
Month: Current Affairs - August, 2018
Topics: Election Commission • National • NOTA • Rajya Sabha • Supreme court
Latest E-Books