Saudi Arabia's King Abdullah bin Abdulaziz passes away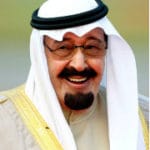 Saudi Arabia's King Abdullah bin Abdulaziz has passed away. He was 93-year old patriarch.
Abdullah's brother Salman bin Abdulaziz Al Saud is his successor and new King of Saudi Arabia. Salman in turn, has named his half-brother Muqrin as the new crown prince and his heir.
Earlier, king Salman was the Crown Prince and defence minister since 2012. He was also the Governor of Riyadh province for five decades before that.
About Abdullah bin Abdulaziz
He was born in Riyadh in August 1924 (although actual date is disputed).
In 1962, he was appointed commander of the Saudi National Guard.
In 1982, he became crown prince and first deputy prime minister when King Fahd succeeded King Khalid.
In August 2005, he succeeded to the throne following the death of then King Fahd. He had handled the affairs of the country for a decade, before when his predecessor King Fahd suffered a debilitating stroke.
He played important role in introducing the cautious changes in ultraconservative Muslim kingdom by bringing significant reforms in the country. These include increased women's rights and economic deregulation.
Under his leadership Saudi Kingdom joined hand with its powerful ally U.S. to fight against al-Qaida.
King Abdullah had been the guiding force behind Organization of the Petroleum Exporting Countries (OPEC) as the Head of world's largest crude oil producer and exporter.
Month: Current Affairs - January, 2015
Topics: Abdullah bin Abdulaziz • Current Affairs 2016 • Organization of the Petroleum Exporting Countries (OPEC) • Salman bin Abdulaziz Al Saud • Saudi Arabia
Latest E-Books