Russia, Turkey agree to intensify military, intelligence contacts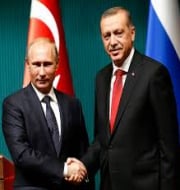 The Russia and Turkey have agreed to intensify military and intelligence contacts. They also have agreed on the need for aid to get to the northern Syrian city of Aleppo.
Decision in this regard was taken after meeting between Turkish President Recep Tayyip Erdogan, Russian President Vladimir Putin on sidelines of World Energy Congress in Istanbul.
Key Facts
The two countries also have signed a deal to construct two TurkStream gas pipeline pipelines to send Russian gas under the Black Sea to Turkey.
Turkey will use one pipeline for its domestic consumption and the other will supply southeastern Europe, bypassing Ukraine.
Improvement in Relations
This was the first time Russian President Putin visited Turkey after their relations were strained after Turkey, a NATO member had downed a Russian war plane in November 2015 alongside the Syrian border.
Since then relations between both countries had ebbed after Russia had imposed economic sanctions against Turkey.
Turkey is massively dependent on energy imports from Russia for its energy security. Besides, first nuclear power station of Turkey is also being built with Russian help.
Syria
However, both nations still differ over Syrian strategy and plan. Russia has always stood by Assad regime in Syria throughout the years of unrest.
Russia had further intensified its support to regime by launching an air campaign against rebels. Contrastingly, Turkey always stood against Assad and helped the rebel factions.
Turkey's decision was seen counterproductive as it had further strengthened the stronghold of ISIS in Syria and surrounding region and also intensified the Syrian civil war and leading to spread of terrorism and refugee crisis.
Month: Current Affairs - October, 2016
Topics: Energy Sector • International • International Relations • Russia-Turkey • Syria
Latest E-Books