G D Robert Govender conferred V K Krishna Menon award 2019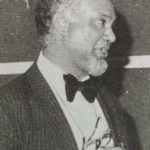 G D Robert Govender, an Indian–origin journalist in South Africa was honoured with V K Krishna Menon Award 2019 in United Kingdom for his contribution as pioneer of decolonised journalism. He became first person to be honoured with this award posthumously. The award was given by 'V K Krishna Menon Institute' on 123rd birth anniversary of renowned Indian diplomat and politician V K Krishna Menon.
About G D Robert Govender
He was born in South Africa in August 1930. During his career in journalism spanning nearly 60 years, he had developed international repute as campaigning journalist and author and was also first journalist to call for international boycott of whites-only sports teams of South Africa.
His books include 'The Martyrdom of Patrice Lumumba' which had exposed role of Western intelligence agencies in murder of Congolese independence leader.  He died in London, UK in 2016.
About V K Krishna Menon
He was India's first High Commissioner to Britain (United Kingdom). He served as Defence Minister of India from April 1957 to October 1962. He holds the record for longest speech (8 hours) before UN Security Council (UNSC) while defending India's sovereignty over Kashmir.
Category: Awards, Persons & Places in News
Topics: Britain • Defence Minister of India • G D Robert Govender • Kashmir • South Africa • The Martyrdom of Patrice Lumumba • United Kingdom • UNSC • V K Krishna Menon Award • V. K. Krishna Menon
Advertisement