Resolution introduced in US House to bring India on par with NATO allies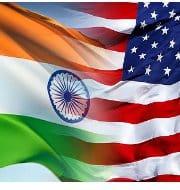 A Congressional resolution aiming to bring India on a par with America's NATO (North Atlantic Treaty Organization) allies in terms of Defence trade and technology transfer was introduced recently.
The US-India Defense Technology and Partnership Act (HR 4825) proposes to amends the Arms Export Control Action. It was introduced by Congressman George Holding, Co-Chair of the House India Caucus.
The resolution seeks to formalise (i) India's status as a major partner of equal status as US's NATO allies and closest partners and (ii) also elevate India's status in export of defence articles from the US.
Benefits to India
Cement the India-US relations and lay a foundation for future cooperation and growth.
Shorten the time required for the notification of sale or export of defence articles from the United States to India.
Encourage more joint contingency planning and require the US government review and assess India's ability to execute military operations of mutual interest.
US-India Defence Relations
Defence trade between the US and India is one of the strongest areas of the bilateral economic relationship. Over the past 10 years it has risen from $300 million to over $14 billion.
Month: Current Affairs - March, 2016
Topics: Current Affairs 2016 • Defence • India-International Relations • India-US • NATO
Latest E-Books