Renowned Meteorologist Dev Raj Sikka passes away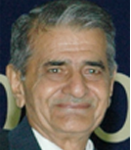 Renowned Meteorologist and former director of the Indian Institute of Tropical Meteorology (Pune) Dev Raj Sikka passed away. He was 85.
He is famously known as Monsoon Man and the Father of Indian Meteorology. He was first proposed a link between the El Nino phenomenon and the Indian monsoon in 1982, but that time less importance was given to it.
About Dev Raj Sikka
He was born on March 1, 1932 in Jhang, Maghiana in Pre-partition India (now in Panjab, Pakistan) and later migrated to India after the partition.
He had completed his Masters in Science (MSc) in Physical Chemistry from Agra University and joined Indian Meteorological Department (IMP) in 1954.
He joined Indian Institute of Tropical Meteorology (IITM) in Pune in 1964 and retired from the same as the director of the institute.
He is credited with being among the pioneers of developing weather models and computer-modelling techniques to forecast the monsoon.
He had actively participated in research and development of Monsoon Dynamics, , Prediction of Weather and Climatology, Tropical Meteorology, Atmospheric Chemistry and Air-Sea interaction.
He had served as Chairman of the Ministry of Earth Sciences' Monsoon Mission, a programme to improve monsoon-related forecasts.
He also had served as chairman of Council for Scientific and Industrial Research (CSIR) committee on Climate Change and also of Research and Advisory Council of National Centre for Medium Range Weather Forecast.
Awards and Honours: IMD's Lifetime time achievement award and Sir Gilbert Walker Gold Medal (2010). 
About El Nino Southern Oscillation (ENSO)
It is complex climatic and weather phenomenon observed due see-sawing of temperatures in the equatorial Pacific. It is among the most significant factors that meteorologists scan to forecast the performance of the Indian monsoon. 6 out of 10 El Nino-years have been associated with below-normal rainfall over India.
Month: Current Affairs - March, 2017
Topics: Dev Raj Sikka • IMD • Obituary • Persons in News • Weather forecasting
Latest E-Books