Rajnath Singh becomes first defence minister to fly in LCA Tejas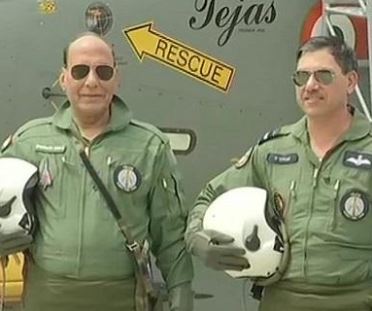 Union Defence Minister Rajnath Singh on 19th September 2019 flew in the Tejas fighter aircraft from the HAL airport in Bengaluru. He becomes the first defence minister to fly in the indigenously built light combat aircraft (LCA) Tejas.
Defence Minister Flies in Tejas
Defence Minister Rajnath Singh was accompanied by Air Vice Marshal N Tiwari, who is the Project Director, National Flight Test Centre, ADA (Aeronautical Development Agency) in Bengaluru.
Defence Minister flew a sortie in the twin-seater version of Tejas. He took the sortie to boost the morale of officers who have been involved in the development of indigenously-made Tejas and of those IAF pilots who are flying the Tejas aircraft.
Before taking the sortie the Defence Minister was acquainted with the air prowess of the home-grown fighter, its avionics, controls and radar in the glass cockpit and the weapons it carries for strike power.
LCA Tejas
The IAF has inducted 16 weaponised LCAs into its combat fleet since June 2018.
The IAF had initially placed an order with the Hindustan Aeronautics Limited (HAL) for 40 Tejas aircraft. Last year, the IAF issued the request for proposal (RFP) to HAL for the procurement of another batch of 83 Tejas at a cost of over Rs 50,000 crore.
In a major boost to the indigenously developed aircraft, Tejas had earlier successfully carried out an arrested landing which a key performance demonstrating its ability to land onboard an aircraft carrier. It was a significant milestone in the development of Naval Version of the Aircraft.
Topics: Aeronautical Development Agency • Aircraft • Aviation • Carrier-based aircraft • Future of the Indian Air Force • HAL Tejas • Hindustan Aeronautics Limited • LCA • Light combat aircraft • Military aircraft • Ministry of Defence • Tejas
Latest E-Books