Second Raisina Dialogue held in New Delhi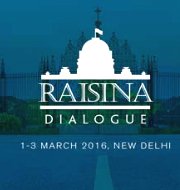 The second edition of Ministry of External Affairs' annual Raisina Dialogue was held in New Delhi with the theme "The New Normal: Multilateralism in a multipolar world".
The flagship geo-political conference was inaugurated by Prime Minister Narendra Modi and was attended by delegates from 65 countries.
 Highlights PM Narendra Modi's speech
Outlined government's foreign policy from May 2014 and also referred to differences with China, and India's close partnerships with the US, Russia and Japan.
Pakistan and Terrorism: Pakistan must walk away from terror for dialogue with India as India alone cannot walk the path of peace.
Peaceful South Asia: India remained committed to vision for a "peaceful and harmonious" South Asia, and neighbourhood first.
Globalisation: Growing sentiment against trade and migration and rising parochial and protectionist attitudes are putting globalisation's gains at a risk.
China: It has unprecedented business and commercial opportunities for India. However, rising ambition and festering rivalries (in Asia) are generating visible stress points such as freedom of navigation in the South China Sea.
CPEC: The ambitious $45 billion China-Pakistan Economic Corridor (CPEC) connectivity project cannot override sovereignty as it runs through disputed parts of Pakistan Occupied Kashmir (PoK).
United States: US administration led by Donald Trump and India will further focus on building bilateral relationship.
About Raisina Dialogue
Raisina Dialogue is an annual conference held in New Delhi. It is envisioned to be India's flagship conference of geopolitics and geo-economics.
The conference is held jointly by Ministry of External Affairs and the Observer Research Foundation (ORF), an independent think tank based in India.
The name of conference comes from Raisina Hill which is the elevation in New Delhi where presidential palace of India, Rashtrapati Bhavan is located.
The first edition of the conference was held in March 2016 with the theme "Asia: Regional and Global Connectivity". It is organized on the lines of the Shangri-La Dialogue held in Singapore.
It is structured as a multi-stakeholder, cross-sectorial conclave, involving policy and decision makers, including cabinet ministers from various Governments, high-level Government officials and policy practitioners, leading personalities from business and industry etc.
Month: Current Affairs - January, 2017
Topics: National • New Delhi • PM Narendra Modi • Raisina Dialogue • Speech
Latest E-Books