Rainwater Harvesting Plans of Delhi Metro
Delhi Metro has planed to have rainwater harvesting system in every station in the third phase. As per the plans, around 80 Metro stations in the capital will have rainwater harvesting system, the number to grow up later. The objective is to decrease its carbon footprint and to conserve groundwater.

How water will be stored?

The Rainwater will be collected from the station premises, specifically the rooftop, as well as the viaducts or the elevated tracks on which the trains run. After rainwater is collected in pits made specially for the purpose, it is drained into a harvesting well — a borewell — through storm-water pipes and manholes. The water then percolates down to the subsoil through numerous layers of sand, gravel and boulders as shown in the following graphic sources from Times of India.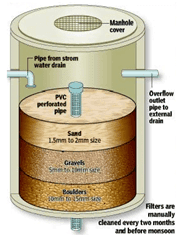 How water will be channelized?

After around every half kilometer on the viaduct, a drain channels the rainwater into the ground. However, at stations, this rainwater is collected through pipes and channeled to the special pits.


Rainwater that is collected on the rooftop of building is diverted by drainpipes to a settlement or filtration tank, from which it flows into the borewell.


The runoff from the first spell of rain is allowed to drain away. This needs to be done since the first spell of rain carries with it a relatively larger amount of pollutants.

Month: Current Affairs - November, 2011
Topics: Appropriate technology • Aquifers • Hydrology • Natural environment • Rainwater harvesting • Rainwater tank • Sustainable gardening • Water • Water conservation • Water supply • Water tank
Latest E-Books